The choice to live a creative life is powerful, but not always for the faint of heart. Oh, but those of us who are brave enough to choose that path find powerful rewards in the depths of our soul and in the quality and beauty of our daily life. If there's one thing every creative person eventually learns, though, this kind of living can feel a bit isolating unless we find other makers to connect with and learn from.
As humans, we are all naturally curious about how people DO it. What is life like behind closed doors those of us who must create?
The pages of Modern Creative Life will not tell people step-by-step how to do something, but we invite them into our world as a witness so they are inspired to be true to living their own life in an artful and creative way.
Our Mission
Modern Creative Living honors the pursuit and practice of joyful creativity. We believe that the creative arts enrich our everyday living, enhance our environment, create lasting connections, and sustain our souls.
How it Started
Modern Creative Life is the brainchild of Debra Smouse and Melissa Bartell and Becca Rowan, fellow alumni of All Things Girl, a successful eZine that ran from 2001 to 2015. After closing All Things Girl, we each wanted a new venue to share in the fellowship of other makers. We wanted a place where we could dive into the creative lives of our fellow women (and men) and be inspired by the way they manage their daily lives while nurturing their creative needs.
Staff
Editor in Chief – Debra Smouse
Debra Smouse is a self-admitted Tarnished Southern Belle, author and life coach. She resides in Dayton, Ohio where she practices the art of living with the Man of Her Dreams. Her book, Create a Life You Love: Straightforward Wisdom for Creating the Life of Your Dreams was published in December 2015.
From the time she learned the words and sentences created stories, Debra fell in love with writing. Though she no longer lives out of a suitcase, she still has a Gypsy Soul and a lust for travel. She never passes up an opportunity for a great glass of wine and shared stories.
When she's not writing, you'll find her curled up with a good book and a cup of coffee or creating something delicious in the kitchen. Connect with her at her coaching website, Twitter, Facebook, Instagram or Goodreads.
Editor at Large  – Melissa A. Bartell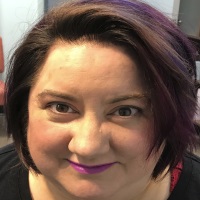 Melissa is a writer, voice actor, podcaster, itinerant musician, voracious reader, and collector of hats and rescue dogs.
She is the author of The Bathtub Mermaid: Tales from the Holiday Tub. Listen to her podcast, Tales from the Tub, available on iTunes.
You can learn more about her on her blog, or connect with her on on Facebook, Instagram, or Twitter.
Editorial Advisor – Becca Rowan
Becca Rowan lives in Northville, Michigan with her husband and their two dogs. She is the author of two books.  Life in General, a book of personal and inspirational essays about the ways women navigate the passage into midlife. Her new book, Life Goes On, a book of personal and inspirational essays about women's experiences with family life, aging, and loss, is available at Amazon in print and on Kindle, as well as on her website.
She is also a musician, and performs as a pianist and as a member of Classical Bells, a professional handbell ensemble.
If she's not writing or playing music you'll likely find her out walking with the dogs or curled up on the couch reading with a cup of coffee (or glass of wine) close at hand.
She loves to connect with readers at her blog, or on Facebook, Twitter, or Goodreads.
Regular Contributors
Anna Oginsky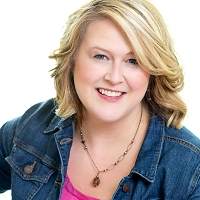 Anna Oginsky is the founder of Heart Connected, LLC, a small Michigan-based workshop and retreat business that creates opportunities for guests to tune in to their hearts and connect with the truth, wisdom, and power held there. Her work is inspired by connections made between spirituality, creativity, and community. Anna's first book, My New Friend, Grief, came as a result of years of learning to tune in to her own heart after the sudden loss of her father. In addition to writing, Anna uses healing tools like yoga, meditation, and making art in her offerings and in her own personal practice. She lives in Brighton, Michigan with her husband, their three children, and Johnny, the big yellow dog. Connect with her on her website; Twitter; Facebook; or Instagram.
Bella Cirovic
Bella Cirovic is a photographer and writer who lives with her husband and daughter in the suburbs outside of NYC.
She writes on the subjects of self care, body love and nourishment, crystals, essential oils, and family life.
Follow her on Instagram.
Catch up with Bella at her blog: She Told Stories
Cathleen Delia Mulrooney
Restless. Sleepless. Book-lover. Wordsmith. Deep roots.  Prodigal heart. Teacher. Guide. Wanderer. Witch. Tea, tarot, hot baths, stitchcraft. Curator of narrative relics, remnants, & curiosities.
Cat is also a freelance writer, editor, and teacher.  Her poetry, fiction, essays, interviews, and reviews have appeared in a variety of online and print publications. She has been teaching writing at the college level since 2000, and has facilitated creative writing workshops in elementary schools, high schools, prisons, and private organizations, as well as workshops exclusively for women to write their body and tarot-based narratives.
Through her Queen of Cups Tarot community, she offers private, group, and online tarot readings. Find her online at http://cdeliamulrooney.com and Facebook: https://www.facebook.com/queenofcupstarot/
Christine Mason Miller
Christine Mason Miller is an author, artist and guide who lives in Santa Barbara, California.
Buy her book on Amazon. Go on Retreat . Hire her as your Mentor.
Fan her on Facebook. See her on Instagram.
You can follow her adventures at www.christinemasonmiller.com.
Denise Braun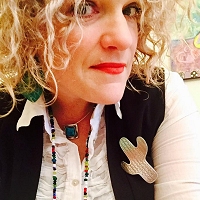 Denise lives on the Central Coast of California with her husband, three daughters, 11 chickens, 4 cats and one dog. Her passions include writing, creating artwork, and supporting others in a soulful therapeutic modality she created called Artful Hypnosis.
When Denise isn't enjoying life in the spaces in between, she organizes retreats for women, teaches paint classes around the U.S., and organizes her ever-growing shoe collection.
Her favorite things include freshly outta-the-oven banana bread, dragonfly-fly by's in her backyard, and pumpkin-scented sache's in her sock drawer. True story.
Dona Murphy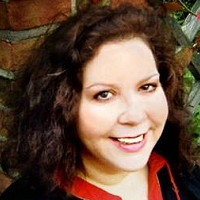 Dona Murphy is the owner of Destiny Tarot. She is a Tarot reader, Intuitive Counselor and Life Coach. She has studied and read the Tarot cards since the age of 14 when she received her first deck as a birthday gift.
Using her spiritual and metaphysical studies, natural gifts and real-world experience – a degree from Northwestern University and a twenty-year career in the field of Human Resources management – she helps her clients solve problems and create better personal and professional lives through spiritual development and self-awareness. Using the Tarot and intuitive coaching, either in combination or separately, Dona gives her clients the tools with which to transform their lives.
A lover of books and writer of fiction, poetry and essays since childhood, she lives in Lake Bluff Illinois (a Chicago suburb) with her cat, crystal balls and cards. She and her long-time partner Kevin love gardening and DIY projects (he's the expert).
Dona also does dream interpretation and private transformational workshops for finding the most fulfilling, happy and healthy love relationship of your life by working with Divine Feminine energy through Tarot archetypes.
Dona offers private, group, e-mail and online readings/coaching. Find her online and on Facebook.
Emma Gazley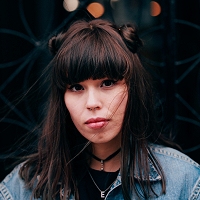 Emma Gazley is an artist, musician, writer, adventurer and teacher. Born to two adventurous parents, Emma was destined to be an explorer of the world, and from her earliest moments displayed signs of creativity and curiosity. She has spent time in Europe, Asia, Canada, and currently resides in the U.S. She began her journey of discovering her identity as an artist in 2012, after encountering critical health problems that caused her to lose her job and the ability to do most everyday activities. Many of her projects have, as a result of this event and others, a twinge of the painful and tragic aspects of life. Emma is interested in learning about grief and how to cope with it, as well as passionate about finding joy in the day to day.
Jeanette McGurk
Jeanette McGurk is a Graphic Designer who entered the world of writing through advertising. She discovered writing a lot of truth with a little fluff is a lot more fun than the other way round. Now that she is no longer spending time making air conditioners, tile floors, IT and Botox sound sexy, she writes about the unglamorous yet wonderful moments of life for people like herself; in other words, anyone looking for interesting ways to put off cleaning and doing laundry.
She is a curmudgeon and doesn't Twit or Instagram. She has heard the blog is dead but since she has finally figured out how to do it, that is the museum where you can locate her writings. http://jmcpb.blogspot.com/.
Jeanie Croope
After a long career in public broadcasting, Jeanie Croope is now doing all the things she loves — art, photography, writing, cooking, reading wonderful books and discovering a multitude of new creative passions.
You can find her blogging about life and all the things she loves at The Marmelade Gypsy.
Julie Terrill
Julie Terrill is a photographer and writer with a passion for travel. For ten years, she's told stories of empowerment through the lens of her camera in an array of unique landscapes, environments, and projects – from a shelter for children rescued from trafficking in Thailand to Faces of Courage, complimentary portrait sessions she offers to cancer patients in her community.
She is a photographer and facilitator at Beautiful You and Soul Restoration retreats.
Connect with her at: JMTerrillImages.com
Keva Bartnik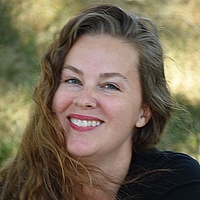 Keva Bartnick is an artist, writer, and lightworker.
Happily married mother of three; she's been inspiring people to be their most courageous selves since 2015.
She can be found at Taleoftwofeathers.com
Laura Pursley
Laura is a home decor blogger, marketing professional, mother of 2, living in Michigan. Laura has a passion for design that she uses to transform her home into a comfortable, livable, beautiful space for her family. Her design motto is that you don't have to be a designer to have good design in your home. She believes that everyone deserves to be in a space that they love, whatever that means to you.
Laura likes to mix a little bit of modern with a little bit of farmhouse, and she likes textures, patterns, and in some instances, is not afraid of color. It is her hope with her design blog to inspire others to transform their own spaces into something they love.
Visit her blog at www.harperhomedesigns.com to get inspired, or follow her on Instagram, Facebook, Pinterest
Kolleen Harrison
Kolleen Harrison is a creative living in the beautiful Central Coast of California.  She is the Founder of LOVEwild and Founder/Maker of Mahabba Beads.  Her passions lie in nurturing her relationship with God, loving on her happily dysfunctional family, flinging paint in her studio, dancing barefoot, making jewelry (that is so much more than "just jewelry"), and spreading love and kindness wherever and whenever she can.
You can find her popping in and out at LOVEwild.org or MahabbaBeads.com
Connect with Kolleen on Instagram.
Melissa Cynova
Melissa Cynova is owner of Little Fox Tarot, and has been reading tarot cards and teaching classes since 1989. She can be found in the St. Louis area, and is available for personal readings, parties and beginner and advanced tarot classes. You can Look for her first book, Kitchen Table Tarot, from Llewellyn Publishing in January 2017.
Melissa lives in St. Louis with her kiddos, her husband, Joe, and two cats, two dogs and her tortoise, Phil.
She is on Twitter, Facebook, and Instagram. Go ahead and schedule a reading – she already knows you want one.
Molly Tortoro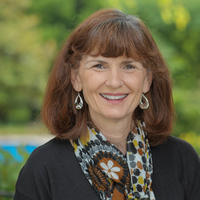 Molly Totoro is a Connecticut Yankee currently residing in the Midwest with her husband and trusty basset. While Molly retired from full-time teaching in 2014 to pursue her writing dreams, she continues to work with students to achieve their writing potential. Molly recently published her first book, Journaling Toward Wholeness: A 28-Day Plan to Develop a Journaling Practice with the hope of inspiring others to experience the health benefits of writing their inner thoughts.
Since retiring, Molly has reconnected with other interests that lay dormant for several decades: reading, travel, photography, and scrapbooking.
She considers all these passions intimately connected: reading enhances her writing –  she cannot travel without a camera or notebook – the camera helps her slow down and observe the world. And she is compelled to tell the story behind the photo.
These are her heart's desires. Her blog, My Cozy Book Nook is where she gives them voice.
Connect with Molly on FaceBook –  Twitter –  Instagram–  Pinterest
Selena Taylor
Selena Taylor is a wife, a mother, and a woman who strives to tell the many stories that occupy her mind. She is active in the Rhett & Link fandom and appreciates dark humor.  She and her family live in Illinois, where she takes every opportunity to lose herself under the stars and let her imagination run wild.
Selena has been contributing stories to Modern Creative Life since our inaugural year. As well, she's a regular narrator for the anthology podcast The Bathtub Mermaid: Tales from the Tub.
For more from Selena, check her out on Facebook.
Tabitha Grace Challis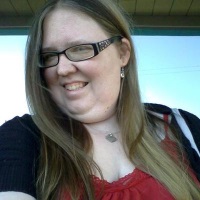 Tabitha is a social media strategist, writer, blogger, and professional geek. Among her published works are the children's books Jack the Kitten is Very Brave and Machu the Cat is Very Hungry, both published under the name Tabitha Grace Smith.
A California girl (always and forever) she now lives in Maryland with her husband, son, and a collection of cats, dogs, and chickens.
Find out more about her on her Amazon author page or follow her on Twitter: @Tabz.
Interested in becoming a Regular Contributor? Email us at ModernCreativeLife@gmail.com