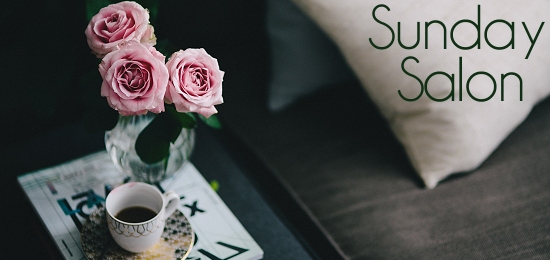 I can't help chuckling at the theme for this issue of Modern Creative Life – ESCAPE. It's particularly ironic for me at this moment because six weeks ago we brought home a tiny puppy, so we're spending most of our time tethered to the house or the puppy's needs. When we do "escape" it's to make a quick run out for a meal, or groceries, or more chew toys, or to the veterinarian's office.
And while I absolutely adore this little critter, there are times when I do long for a real escape – somewhere the sights and sounds consist of other than squeak toys, kibble dispensers, puppy pads, and all the assorted accoutrement puppies now seem to require.
Here is just where art and life intersect in a marvelous way. In the past few weeks I've traveled to India and South America, to Spain and France, and even back in time to the 1930's and 1940's. All while ensconced in my favorite chair, a bundle of fur curled up beside me snoring softly.
If you're a reader you understand what I mean. Books have always been my preferred means of escape. In reality, I'm not much of a traveler anyway. I always prefer home over foreign locales. For many years, I wasn't inclined to admit that, because it seems most people count traveling as a huge life goal and have exotic locations lined up on their bucket lists. Alas, I'm happy spending the majority of my time in my own home, especially as I get older and admittedly more persnickety about my personal spaces. Whenever I do travel, I'm usually disappointed. As Ralph Waldo Emerson wrote in Self Reliance: Traveling is a fool's paradise…I pack my trunk, embrace my friends, embark on the sea and at last wake up in Naples, and there beside me is the stern fact, the same sad self, unrelenting, identical that I fled from."
Yep, there's just no escaping that "same sad self."
So books – and also music and movies and artwork – take me most anywhere I want to go these days. Add in some rich coffee grown in the Andes mountains and a buttery Parisian style croissant, a cold crisp glass of Sauvignon Blanc from New Zealand with some cheese from the coast of England, and the armchair international experience is complete.
Maybe a few months from now when the puppy is grown up and settled I'll decide to take a real trip instead of a virtual one. I'll hire a pet sitter, pack my trunk, wave farewell to my friends, board a plane, and take off into the friendly skies toward unknown and interesting destinations.
Then again, maybe I'll just settle back in my armchair with a pile of good books. Think of all the money I'll save to buy chew toys and dog treats.
How about you? Are you an armchair traveler or an explorer for real?
Here's a list of books I've "traveled" with in the past few weeks:
A Place for Us – Fatima Farheen Mirza
The Masterpiece – Fiona Davis
Another Side of Paradise – Sally Koslow
The Story Hour – Thrity Umrigar
Moonlight Over Paris – Jennifer Robson
Women in Sunlight -Frances Mayes
About the Author: Becca Rowan
Becca Rowan lives in Northville, Michigan with her husband and their Shih Tzu puppy Lacey Li. She is the author of Life in General, and Life Goes On, collections of personal and inspirational essays about the ways women navigate the passage into midlife. She is also a musician, and performs as a pianist and as a member of Classical Bells, a professional handbell ensemble. If she's not writing or playing music you'll likely find her either playing with (or cleaning up after) the puppy, or curled up on the couch reading with a cup of coffee (or glass of wine) close at hand. She loves to connect with readers at her blog, or on Facebook, Twitter, or Goodreads.