I was reading Lauren Graham's I'm Talking As Fast As I Can and found myself nodding in agreement, saying "me, too!" and realizing that according to the advertising world, I am a woman beyond their preferred age and spear of ideal influence. Why? Because I have a favorite / preferred / won't-choose-anything-else brand of paper towels.
She tells the story of how, despite the fact she needed paper towels, she turned down a huge pack of free ones from a friend because they were the wrong brand.  Lauren Graham of Gilmore Girls fame and I share a love for the exact same paper towels. Bounty. Select-A-Size.
On the rare occasion I accidentally pick up the full-sized-sheet ones, I almost recklessly go through them and make sure Hope uses them when she cleans.  I don't like the full-size sheets. I only use a half-sheet to clean the grinder when I make my morning coffee. And three halves is just the right size to cover my 2-cup Pyrex Measuring Cup when I heat a can of John's (almost daily) can of tomato and basil soup. And when I pack his lunch, that perforated line is perfect so that I can provide two neatly folded lunchtime napkins.
But it isn't just the paper towels I'm particular about. I only like the Glad Force Flex trash bags, Charmin toilet tissue, Tide Laundry Detergent, and Cascade Action Packs. And the best scent to indicate a freshly cleaned bathroom is PineSol, like my mother and grandmother used.
The tending of my creative life also plays favorites. Though I'm not too picky on the color of my ink, I only use Uniball 207 Gel Pens (medium tip) when I write letters or write in my my Leuchtturm 1917 Hardcover Journal.  (The A5 size with dot grid paper. )
From this little litany you might be thinking that I'm both picky and spoiled. Or wound incredibly tight with a series of anal rules for the way I choose to live my life. And while I admit that all three descriptions might fit me, the selection of individual elements that populate my daily life are deliberate choices I make in order to cultivate a kinder, more nourishing home environment. As Alexandra Stoddard writes in her book Living a Beautiful Life "When something small is right you can then forget about it and think about more lofty ideas."
The little things matter because it allows me the grace of creation. When those seemingly small details are automatically tended, I have brain space. When those tiny physical needs are  met, it gives me the permission to get uncomfortable when it comes to my creative work.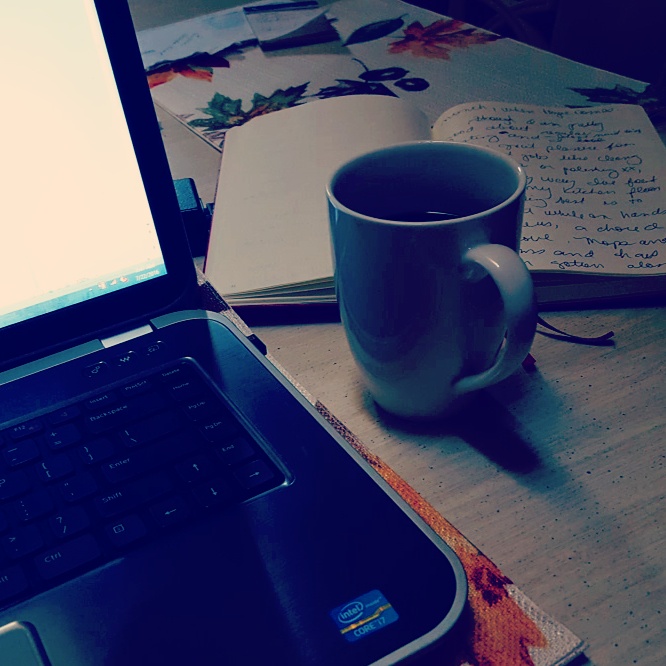 I have learned in my almost forty-nine years that attention to these small details matters to the overall quality of life. Some choices are due to nostalgia and the deeper parts of my DNA. Though I rebelliously flirted with Gain in my twenties, deep down I know that my mother chose Tide for a reason. Realistically or psychologically, I believe that Tide makes my clothes cleaner.
Sometimes, tactile reasons drive our choices, drawing in a particular scent or feel. Pine Sol in every bathroom smells like my grandmother's house. Soap & Glory's Righteous Butter Body Lotion is the perfect example of that mix of tactile and scent with its silky texture and soft scent of roses.
When John first moved to Ohio and couldn't find his preferred bar soap for the shower (Coast) I didn't hesitate to search in every store until I found it. It mattered to me because it mattered to him and this seemingly small gesture was a way to choose the creation of a beautiful daily life.
Just like my day runs more smoothly when I have those perfect Bounty paper towels, his day begins swathed in the scent that means both clean and comfort. As a bonus, I now have the olfactory magic of connection any time I get close to him, that scent that is uniquely him: Coast Soap, Old Spice Deodorant, and freshly starched shirts.
No matter what your art may be  – writing, painting, film making, fiber arts – tending the tiny, seemingly insignificant details opens the door to feeling safe and comfortable. The magic of comfort is that it allows you to be uncomfortable when it comes to your art. Because, as we all know deep down, doing the hard stuff and choosing to expand and grow our art will always present us with scary and uncomfortable moments.
Cultivating my home has provided one of the least stressful ways to give me that safe space of expansion. And, outside of the ways we are makers, we are also in the midst of making in each moment of our day.
"Intimate, necessary details add up to one's private life. Select them with care because they are your life."
–Alexandra Stoddard
What about you? What details matter to the quality of your life? How does seemingly picky details enhance your creative life?
About the Author: Debra Smouse
Debra Smouse is a self-admitted Tarnished Southern Belle, life coach, and author of Clearing Brain Clutter: Discovering Your Heart's Desire and Clearing Soul Clutter: Creating Your Vision. When she's not vacuuming her couch, you'll find her reading or plotting when she can play her next round of golf. She's the Editor in Chief here at Modern Creative Life. Connect with her on Twitter, Facebook, and Instagram.