I wake or, more preciously, am awoken, before 6 a.m. by our dogs, who insist it's morning, in spite of still-dark skies. After a quick walk, I feed the beloved beasts— two German Shepherds,  Arlo and Alys; one yellow Labrador, Chloe. I prepare peppermint tea, return to bed with a cup for my partner and one for me.
But let me back up for a minute. For twenty years I was happily married to a man. After my husband died, I was busy raising our three children through their teen years; I also discovered I was attracted to women. Those years included many soul-searching, silent retreats, Zen ordination, Chaplaincy training,  Jungian analysis, Karate (I made it to second level Brown Belt) and Yoga (trained as an instructor).
And I discovered poetry.
Before that, I had been an academic, with degrees in English Lit. from Columbia University. I had read a lot, and studied a lot, but I had never written anything creative. At 45, as my husband was dying, I started writing. Today, 15 years later, I have six poetry books published, two more in progress.
On this Tuesday, I return to bed with two cups of tea, one for my partner, Clara, whom I have lived with for four and a half years.
After another snooze of the alarm, I get up at 7:15. The sky is brighter now, sun beginning to light the yard around our house. I jump in the shower, drive from our house in Pomfret Vermont to my favorite yoga class in Norwich. The teacher's approach is Tantric, which fits nicely with Zen: a body-centered awareness, including explorations of how emotions manifest, how to work with them. Yoga class is a spiritual experience for me, a reminder of the ever-present, deeper stream beneath the busy-ness of a day.
After yoga, it's off to a local coffee shop for oatmeal and a cappuccino. I make a nest of poetry books, my laptop, and spend some time reading poems on Writer's Almanac, Poetry Breakfast, Autumn Sky, Poetry Foundation. Today I also watch a You Tube video interview with Sonia Sanchez, a poet who speaks about being in China, recites a haiku about the International Date Line. This triggers a memory for me. I grab my notebook, start to write about my father's WWII experience (he was in China).  This is a subject I have tried to wrestle with before, how he always knew war would start on a Sunday, and it did, but it was Monday in China, because of the date line. Today the idea returns in full force, and I'm off, into the creative process.
After about twelve drafts, I feel the poem is ready to share with my online women's group.  I have been in the habit of sharing rough drafts with them for many years; often receiving encouraging responses. They are my family, and I'm sharing work hot off the press.
By now it's time for lunch,  soup and salad.  I spend the afternoon editing older poems, sending finished poems out to competitions and journals, preparing for the writing workshop I will lead tomorrow, in the local hospital, for those affected by serious illnesses.
At 5:00 I return home, over the river and through the trees, to our house far away, up on a hill in the woods of Vermont. My partner is preparing a delicious dinner of spaghetti squash with her own tomato sauce. Clara, originally from Spain, is a foodie, one of those fabulous, rare beings who loves to cook.
After her full day at the Law School, where she's a professor, she unwinds by preparing me my favorite meals. As she stirs and chops, I carry in wood, prepare a fire in the fireplace, take the dogs out for a romp around the yard. We eat dinner, share stories about our day, sit on the couch with a cup of tea, some dark chocolate and a cookie. We watch Trollope's Doctor Thorne on Netflix.
At ten o'clock, I take the dogs out one last time. I notice the brightness of the stars on this new moon night; Orion, reaching across the sky.
About the Author: Laura Foley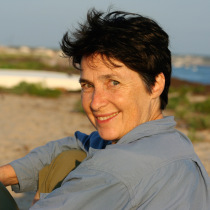 Laura Foley is an internationally published, award-winning poet, author of six collections. She won the Common Goods Poetry Contest, judged by Garrison Keillor; and the National Outermost Poetry Prize, judged by Marge Piercy. Her poetry collections include: WTF, Night Ringing, The Glass Tree and Joy Street. The Glass Tree won a Foreword Book of the Year Award; Joy Street won the Bisexual-Writer's Award. Her poems have appeared on The Writer's Almanac, in Valparaiso Poetry Review, Atlanta Review, Lavender Review, The Mom Egg Review, in the British Aesthetica Creative Writing Anthology, and many other journals.
A certified Yoga Instructor and creative arts facilitator in hospitals, she is the mother of three grown children, grandmother to two granddaughters. She and her partner Clara Gimenez live among the hills of Vermont with their three big dogs.