Twinkling holiday lights reflect in the bay window as I reflect on 2017 in preparation for the New Year.
I spend November focusing on the blessings of life. I try to practice gratitude each day of the year, but the days leading up to Thanksgiving and Christmas are a time of intentional focus. I strive to give thanks not only for the blessings but the difficult times as well. I've lived long enough to know that our greatest failures – our worst obstacles – can prove most beneficial in the end.
When December arrives I relish the holiday festivities as I anticipate the New Year. I use this time to reflect on the past and ponder aspirations for the future.
First, I think about my 2017 word of the year – Nourish. I review what I wrote on January 1st as an explanation for its selection:
Nourish will help me focus on physical health. I want my retirement years to be filled with quality life, not mere existence – and that requires regular exercise and a nutritional diet.
One look at the Weekly Tracker in my Bullet Journal indicates I show improvement in this area. The range of motion in my previously broken arms is nearly 100%. I exercise about four times a week and walk the dog a mile a day. While I know there is room for growth, I am pleased with the progress made.
But I wrote something else on January 1st:
Nourish will also help me focus on mental health. I need to build myself up with positive affirmations and stop with the negative self-talk.
I didn't fare so well in this regard. While I spent time nourishing my physical needs I continued to ignore the emotional ones. The negative self-talk was loud and unrelenting. I named the voice Delilah because she feigned friendship while plotting my demise.
In October I decided it was time to silence her constant criticism. I spent the month researching and journaling about what psychologists call "Impostor Syndrome". I developed a series of quotes and scripture verses to use as weapons against her vehement lies. This was a necessary first step to nourishing and transforming my mind, but I know I have more work to do.
That leads me to my focus for 2018. While I have not yet committed to a single word, I have a few in mind. October's study of positive affirmations taught me faith is a necessary component to life – not only faith in a religious sense but also faith in self. I must have faith that I was put on earth for a specific purpose, and I must have faith that I already possess the skills and talents to fulfill that purpose. Low self-esteem, it turns out, is not a demonstration of humility but rather a deterrent from living the abundant life.
While Faith is a possibility for the 2018 Word of the Year, Believe is the lead contender. Believe is more powerful. Faith is a noun – it states a condition. We have faith, but believing is putting faith in action. I don't want a passive lifestyle. I want to step out in faith and actively pursue a creative purpose.
Delilah doesn't like this kind of talk. Delilah wants to keep me locked away in my comfort zone. She tries to convince me this is a safe place – a desired destination. There is no pain in the comfort zone – no fear of rejection or failure – a space devoid of conflict.
Her lies hide the truth: comfort zones are prisons that keep us from becoming who we were meant to be. Trapped by our fears, we live shallow, discontented lives. We don't try new hobbies or interests for fear we won't be good enough. We don't share our passions with the world for fear we won't be accepted. We begin to shrivel up from within and die.
Believe is the antidote to these lies. It is the necessary action we must take to reclaim our authentic selves.
I believe I was created for purpose. I believe I possess the skills and talents to bring this purpose to fruition. While I know there will be setbacks and obstacles to overcome, I believe I have the self-confidence and determination to continue the journey. I believe I have something to contribute and share with the world.
As I reflect on this past year and the insights I've gleaned, another word comes to mind: Hope. Interestingly, hope is both a noun and a verb. We have hope – a feeling that all will work out for the best. And we also hope – believe or trust that something desired will happen.
Hope is not an expectation, which is tightly connected with a desired result. But rather, hope is the security of knowing all will be okay, regardless of the end result.
Hope is the forerunner for my 2018 Word of the Year. Hope that I will finally silence the harsh criticism of Delilah and replace it with God's truth: I am loved. Hope that I will find the confidence to step out of that comfort zone, try new things, experience new adventures and live a creative life with unashamed joy.
About the Author: Molly Totoro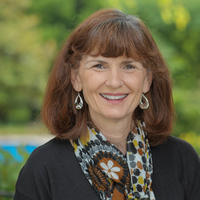 Molly Totoro is a Connecticut Yankee currently residing in the Midwest with her husband and trusty basset. While Molly retired from full-time teaching in 2014 to pursue her writing dreams, she continues to work with students to achieve their writing potential. Molly recently published her first book, Journaling Toward Wholeness: A 28-Day Plan to Develop a Journaling Practice with the hope of inspiring others to experience the health benefits of writing their inner thoughts.
Connect with Molly at her blog, My Cozy Book Nook and on social media: FaceBook – Twitter – Instagram– Pinterest