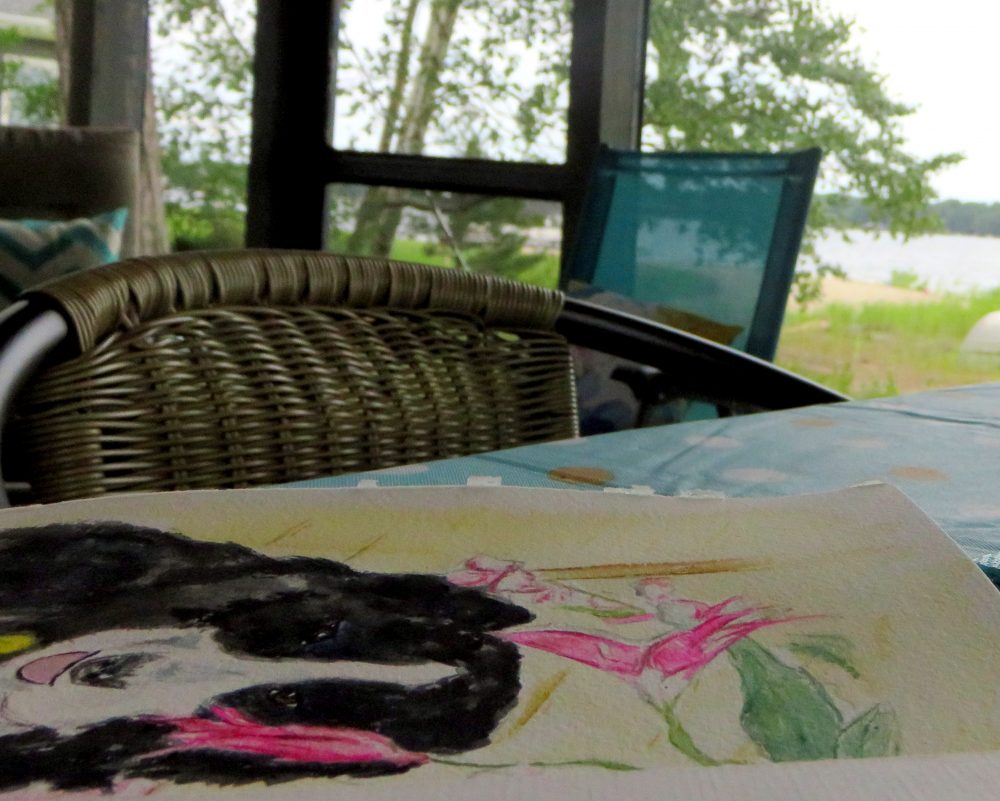 The other day when I opened up my blog-reading notifications, I noticed a post from Jenna, a wonderful artist who also shares loads of recipes. The title was Peanut Butter Power Bars. (Link here if you want the recipe!)
Now, I'm no stranger to power bars. In fact, it's one of the things that always goes in Rick's Christmas collection — sometimes in the stocking, sometimes a box of 12. They help provide the energy a cyclist needs to get over that last hill or make that last sprint worthy of the green jersey.
But I've yet to find the "recipe" for a power bar that can give you the energy to create when you are feeling uninspired, to pick up the house when you're having a down day or to move you off the couch when you'd rather be a slug. (Maybe I shouldn't say "you." Maybe I should cut to the chase and say "me.")
Recently I returned from my summer house to spend a week back in the city. The city. Makes it sound like New York, doesn't it? My city is a small one, a state capitol, to be sure, but not a particularly large one. There are museums for artistic stimulation, walking paths, an arboretum, lovely gardens. You'd think the inspiration would flow.
Yet I found myself wandering from room to room in my own house, trying to decide which thing to do next. Shall I pack up things for Goodwill? Clean the guest room? Paint the ceiling in the shower? The weeds are growing like — well, weeds! In a week filled with appointments, book club, a gallery opening, and a birthday (arranging several celebration elements), I couldn't find the time to paint, couldn't find the time to write, couldn't get my brain to settle in and do it.
Couldn't? Or wouldn't?
A little bit of both, I think. I needed a peanut butter power bar.
Inspiration. It sure doesn't strike on cue, does it? One of the most talented young artists I know has trouble finishing. I sometimes have trouble getting started.
And then, I returned to the lake. A beautiful summer afternoon, hot but not stifling. Sunny but with enough passing fluffy clouds to offer protection from the heat. A lake as smooth as glass, cool but not cold — perfect for a good swim.
I brought my bags into the house, fed the cat (freed at last from the bondage of her carrier), turned the radio to my favorite classical station and within fifteen minutes had started to paint.
It just came. The colors fell together. The drawing not perfect, but not bad. The end piece? A remarkable resemblance to a sweet little baby who happens to hold court inside my heart.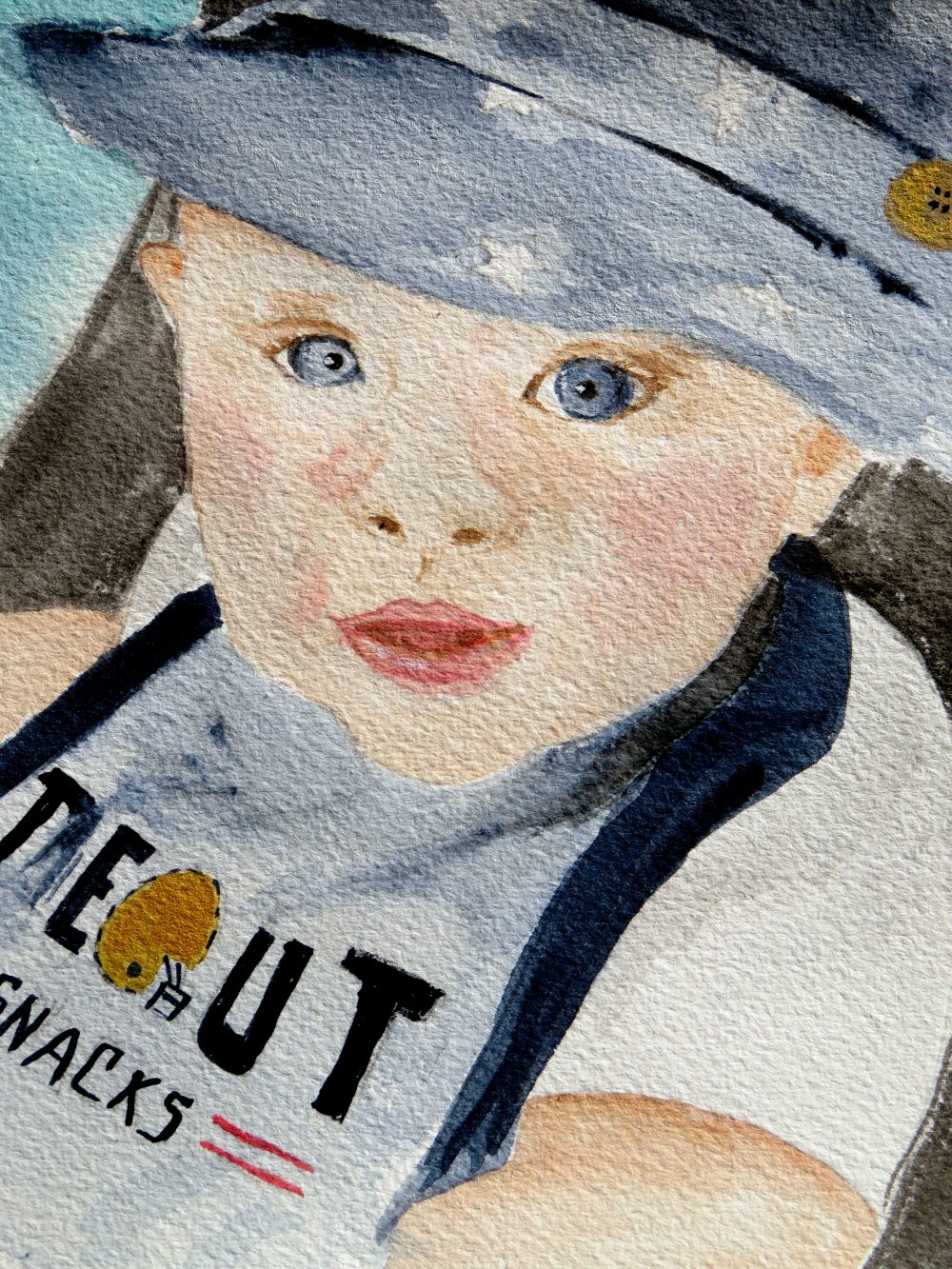 What is it that lets us do what we want to do, freely and expressively? Is it the lack of competition for time and brain cells? Is it passion? Discipline?
I took a break from cottage time to check out an exhibit of Ansel Adams photographs at an art center about an hour away. They reflected the photographer's work in two periods — early photos and later ones — and featured some of his best known work, classics you see on Christmas cards and calendars. While not every photo had a lengthier backstory printed out beside it, some did and they were fascinating.
Adams did not have an easy job. It takes a certain amount of fortitude to climb mountains to capture the perfect image. It takes physical strength (along with balance and a good deal of confidence) to make it up the mountain carrying a forty-pound camera and the additional equipment required. And it took a certain amount of vision to know that making this hike would be worth his while.
Then when he returned to his studio he had to carefully work to manipulate the negatives into the exact look and feel he desired. The process was long and painstaking and he wasn't always satisfied. And yet he continued to persevere.
The exhibit didn't speak much of his personal life — did he have a family? A home to maintain? A basement from which to purge the accumulations of a lifetime — out of date clothing, home decor, books and childhood toys? Obligations that pulled him away from his work? Probably. (Note to self: Add an Ansel Adams bio to the summer reading list.) But the fact of the matter, so plainly clear on those gallery walls, is that he didn't let those things distract him from his work.
I do know that the creative process is different for everyone. There are those who create in chaos, those who require total silence. Some must have it all in front of them, others are more contained. Adams visualized the finished piece before he even started. He defined this as "the ability to anticipate a finished image before making the exposure."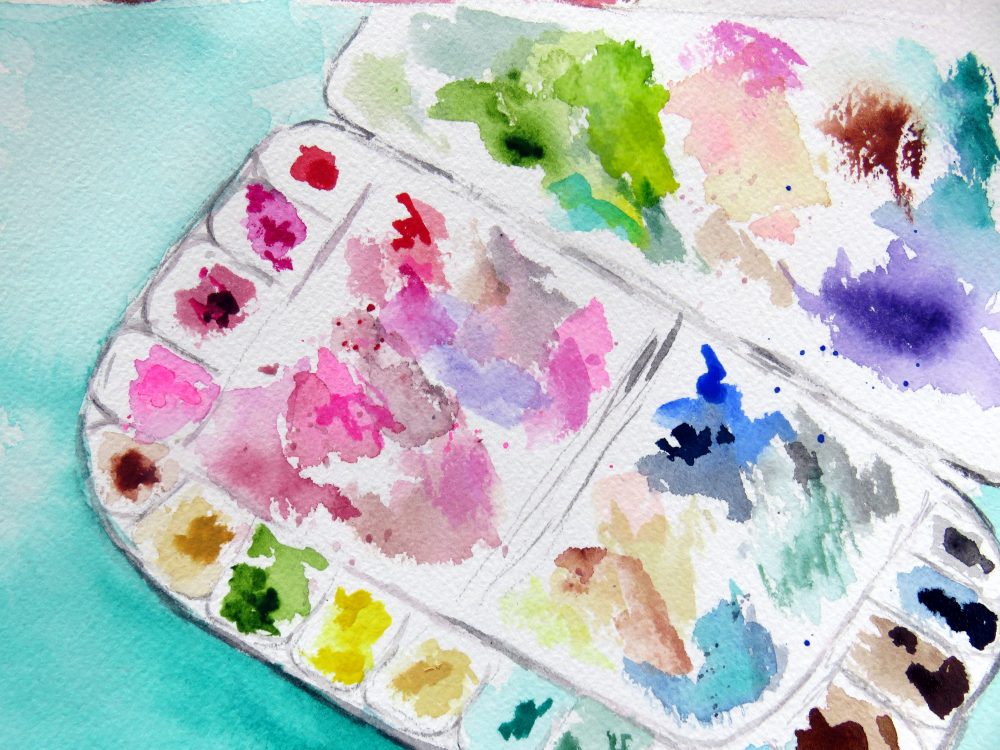 When I begin, I'm never quite sure what the end game will be.
But seeing how I felt when I left this quiet haven where I seem to create more easily in both words and in paint and then venturing back into the familiar and beloved environment of home, was revealing. I lost something when I left here. And when I returned to the less frenetic environment of the lake, the ability to move forward was renewed.
Maybe I have found my peanut butter power bar.
But how do I pack it up to take on the road?
About the Author: Jeanie Croope
After a long career in public broadcasting, Jeanie Croope is now doing all the things she loves — art, photography, writing, cooking, reading wonderful books and discovering a multitude of new creative passions. You can find her blogging about life and all the things she loves at The Marmelade Gypsy.