Time and time again,
in the darkest hours of the night,
I have gone down
on my hands and knees
and painstakingly measured
the empty space you left
when you died, so vast
and deep: I'm tired of living with it,
so I've decided to put it on the market.
Property values are soaring,
there are even bidding wars.
Oh, I won't sell to just anyone,
wouldn't want to wake up one morning
and find a strip mall in my heart.
But I could live with an art museum
or maybe . . . yes,
a library with vaulted ceilings,
sprawling wings, quiet reading alcoves
off the main lobby, tables, lamps
with puddles of amber light
dotting the landscape.
About the Author: Pat West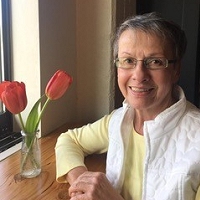 Pat Phillips West lives in Olympia, WA. A Pushcart and Best of the Net nominee, her work has appeared in Haunted Waters Press, Persimmon Tree, VoiceCatcher, San Pedro River Review, Slipstream, Gold Man Review and elsewhere.