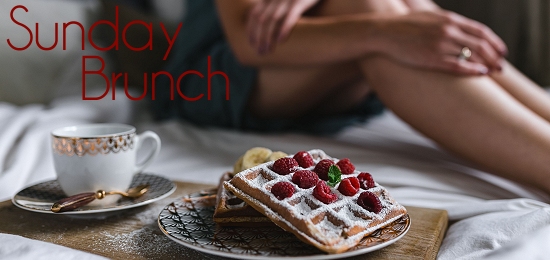 I have a confession to make: I like to write at the kitchen table.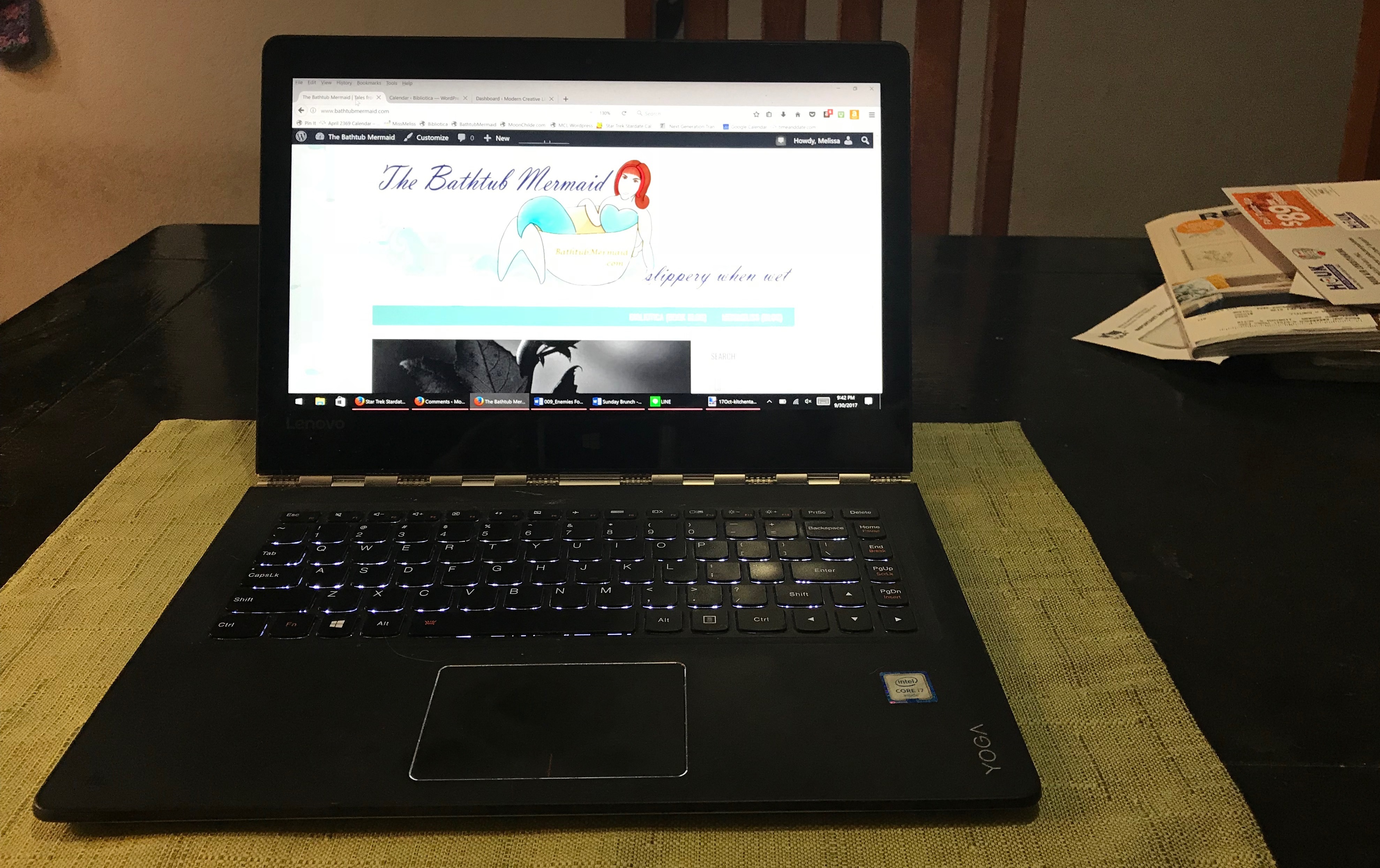 This may not seem like something worthy of embarrassment, or even the least a bit of sheepishness, but the harsh reality is that when I write at the kitchen table, it means that I'm cheating on the Word Lounge, the blue-walled, soft-carpeted room filled with books and mermaid art, and beachy things and far too many Lt. Commander Data action figures (among others) that is my own special space on the top floor of the house.
That room, with the weight machine I've nicknamed Marcy's Playground because that's the brand of the apparatus, has a television with a Roku stick attached, because I like to listen to familiar dialogue while I'm working. It also has a giant picture window that looks onto the cozy street where we live, and a glass coffee table that used to live downstairs, but moved upstairs when we changed the living room furniture.
I love being up there when I'm editing audio, or recording an episode of the podcast I swear is not going to only exist in August this year. I love curling up on the ancient faded-denim couch that used to be my mother's, with a book and a mug of tea or coffee. I love lighting the candle that sits within a wreath of seashells collected from the beaches around La Paz, Baja California Sur, Mexico, where my parents have lived for nearly two decades.
I love it when one of my dogs comes into that space with me and sprawls on that one sun-soaked rectangle of carpet, content to just be near me while I'm puttering or (com)putering.
But for some reason, I end up doing my best writing at the kitchen table. Well, I do a lot of really good writing in bed, a la Mark Twain, as well, but it's the kitchen table where I feel most like a writer.
At this time of year, especially, the kitchen is my favorite room in my house. It has sliding glass doors that open to the back yard, and in the cool of the morning and evening, I can leave the door open and let the dogs wander in and out. I can look outside and see birds coming to visit the feeder I only fill when I remember. (This is intentional. I read somewhere that keeping a feeder full all the time makes the local birds dependent.)
Most often, the birds I see are grackles, but I actually like those birds, which aren't jet black, after all, but deep indigo, purple, charcoal grey, and even, sometimes, subtle maroon. Sometimes there are woodpeckers. Often the big obnoxious blue jay with the Batman mask over his eyes comes to visit. I'm no Disney princess. The birds don't ever clean up my house or create dresses from flowers and twigs, but I like seeing them.
As what passes for fall in Texas deepens into October and November, kitchen table writing increases its appeal. I can't count the number of words I've written while also baking cookies, creating stews, checking on a simmering soup or baking pot pie, or even just nibbling on carrots and hummus, or apples and cheese, or wedges of oranges and endless pots of tea.
Outside, I can see the light change, not just from hour to hour as dawn becomes full daylight, and then fades into nighttime, but season by season – the light starts to thin in August, and by October, there's a sense of crispness to the afternoon sunlight, even when the thermometer insists it's really eighty-two degrees outside.
While my kitchen table writing is often the work I'm most connected to, the specific table doesn't seem to matter. For years I wrote at my mother's hand-me-down teak dining table from the Copenhagen store in Fresno… or was it San Jose?
Currently, my kitchen table is actually a big old library-type 'partner's desk' with a center drawer in either side. It's perfect for the breakfast nook, and more than ample for two or four people. Or one person, her laptop, several notebooks, coffee, and a plate of food. I told my husband the other day that when we move (we're planning to sell our huge house and move to something smaller and all on one floor after the first of the year) I want to replace the corner desk in my office and use this table as the desk in my office.
I can't explain where it comes from, but I have a feeling that kitchen table writing can happen even if the table is no longer in the kitchen.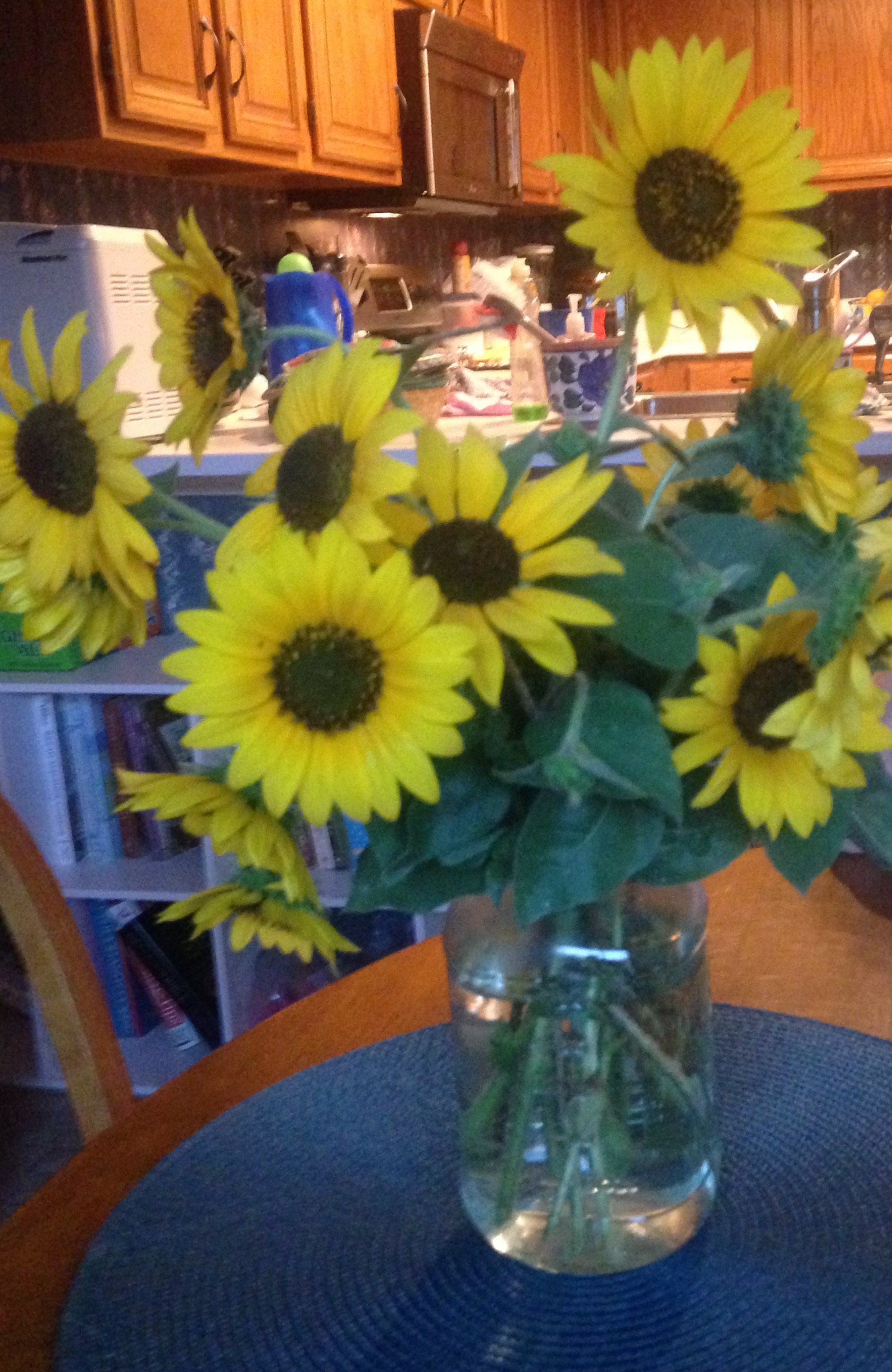 The thing about writing for a living is that it's an incredibly internal vocation. I know I'm not the only writer who spends a significant amount of time living in her own head. I suspect that part of the attraction of writing at the kitchen table is that the kitchen is the heart of any house.
Or at least, it's been the heart of every house where I've ever spent any length of time.
I grew up spending the summers with my grandparents in New Jersey, and the dining table was party central all the time. Whether it was just the family having a simple meal of grilled hamburgers, tomatoes from my grandfather's garden, and corn on the cob from the farm stand down the road, or a late-night thing where all the adults were playing canasta and drinking syrupy black coffee, that table was the place to be.
When I visit my mother in Mexico, I bring my laptop to her kitchen table and write while everyone else is watching television (I'm really bad at 'just' watching television; I have to be doing something.) Last year, when I found that my travel charger would no longer provide my laptop with any power, I usurped my stepfather's barely-touched laptop and used that, saving everything I did to OneDrive and Dropbox, because I had to write.
There are times, of course, when I don't want to write at the kitchen table. I often (usually) bring my laptop into the living room, set it up on a snack tray, and write while Fuzzy (my husband) and I watch television. Over last month, recuperating from pneumonia, I've returned to writing in bed a lot more, typically with a dog or two sharing the space with me.
But for the most part, the kitchen is my happy place, and one of my favorite memories is from one of my parents' early visits to my home, where not one, but all four of us had our laptops or tablets on the kitchen table, all of us tapping away between bits of conversation, nibbling on cookies and sipping coffee.
Apparently, kitchen table writing runs in the family.
About the author: Melissa A. Bartell

Melissa is a writer, voice actor, podcaster, itinerant musician, voracious reader, and collector of hats and rescue dogs. She is the author of The Bathtub Mermaid: Tales from the Holiday Tub. You can learn more about her on her blog, or connect with her on on Facebook, Instagram, or Twitter.