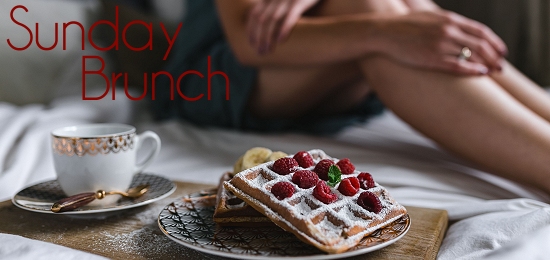 When we ask people to do studio tours, we do it for two reasons. One is that it gives us, and our readers, a sense of the person giving the tour. What you keep on your desk reveals more about you than you might be comfortable stating in a conversation. The other reason is that it gives us (and our readers) ideas for decorating/modifying/changing our own workspaces. It's a great cycle of sharing and inspiration.
I've long been the kind of person who likes to switch things around from time to time. Changing the position of a chair, or a table, or a couch can change the energy of an entire room. For years, every time my husband went away on a work trip, he would beg me not to move furniture while he was gone. Partly, he didn't want me to hurt myself, but partly, he didn't want to come home to a house that had a different layout from when he left.
A recent diagnosis of a torn ACL (surgery will be in early summer) means that I've been forbidden to climb stairs, so Fuzzy and I spent last weekend (with the help of a friend's kid who was willing to work in exchange for being taken to lunch) turning our formal dining room into my office.
To be honest, I've had designs on this space since we originally looked at this house almost fourteen years ago. The original owners had been using the dining room as the headquarters for their home office, and I wanted to do the same. Instead, Fuzzy and I each claimed one of the four upstairs bedrooms (our bedroom is on the ground floor), eventually turning the other two into a dedicated guest room and a library. In the time we've lived here, I've moved offices several times. Originally, I was set up in the room across the hall from Fuzzy's, so we were both in the same 'wing' of the house. When I quit the mortgage industry and started doing audio work, I moved to the big room (really a second living area with a token closet) on the far side of the house, which had room for my weight machine. I moved back to the smaller room when a friend moved in with us for a while and reclaimed the big room when I realized we'd made life here too cushy, and that he'd never leave (he's since left).
So, change is something I embrace.
But I hadn't expected our rearranging to click as well as it has.
Two years ago, we bought a library table and four chairs to use in the kitchen, and I joked that if we ever got tired of using it in that room, I'd want it as a desk. Well, now my parents' old teak table is back in the kitchen, and the library table is positioned across the arched front window in the dining room. We brought down a desktop credenza (it's full of envelopes and postage stamps, sealing wax and staples) and my collection of geeky toys to make the space feel like my space and not just a temporary change. After all, I'll be avoiding stairs until almost the end of the year.
A printer stand we'd been using as a coffee table (and which is full of board games) is now holding an actual printer, and my grandfather's red leather chair is sharing space with an ancient denim wing chair we bought in 2002 so I have a special place to sip coffee or tea and read.
We couldn't move the hutch, but since it holds my collection of Día De Los Muertos art, it feels appropriate. One of my pieces is even a mermaid!
Possibly the best part of this space is that, since there isn't a coffee table occupying the center of the room as there is in my upstairs office, all the dogs can roam in and out or sack out on the carpet without ruining anything with the stray swipe of a happy tail.
I expected this switch to be convenient.
I didn't expect the energy in the room to be so welcoming, so enlivening, that despite constant low-level pain, I'm more creative than I have been in months. (Okay, part of that is because I've finally recovered from writing twenty-eight plays in February, but still…)
And so, this latest revamping of our household, meant to accommodate my injury, has become an artistic and creative boon. I'm working surrounded by art pieces that we've collected and acquired over the years, and my own toys. I have a window that looks out to the front of our house, and the daily routine of our neighborhood. I've even found that the sunny yellow walls, rather than being too bright for every day, are warm and cheerful.
I told Fuzzy, and many other people, that I love this new space so much I might not relinquish it once I'm allowed to use stairs again.
Fuzzy's okay with that, though, as long as he can have the room I vacated. It has a full-sized sofa in it, you see, which is perfect for those all-night maintenance calls he sometimes has to monitor.
Do you have a dedicated space for your work or creative endeavors? Do you ever want to change things around in your house, just to see how it feels?
About the author: Melissa A. Bartell

Melissa is a writer, voice actor, podcaster, itinerant musician, voracious reader, and collector of hats and rescue dogs. She is the author of The Bathtub Mermaid: Tales from the Holiday Tub. You can learn more about her on her blog, listen to her podcast, or connect with her on on Facebook, Instagram, or Twitter.