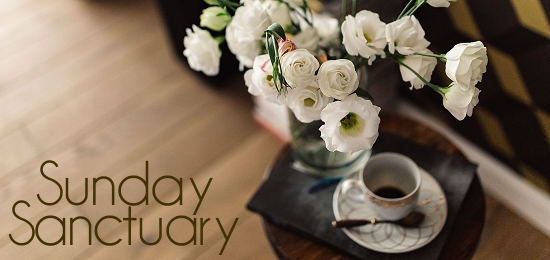 When we laid out the themes for Modern Creative Life last fall, never did I imagine that "Light & Shadow" would arrive at a time when there was so much darkness in my own life, not to mention the lives of other members of the MCL family, or the world in general.
How could I pretend to know that come fall, not only would the trees be shedding their leaves, but pieces of my heart would be feeling battered? How could I predict the time spent pondering whether those broken pieces would be like the leaves: drifting away now only to be renewed when spring arrives? How could any of the editorial staff begin to imagine a world in which this issue would coincide with so much loss and destruction in the world due to multiple hurricanes and a gunman?
I could never have foreseen any of this. Yet, deep down I still know that light and shadow will forever be bed-mates. There's no way to witness glorious sunrises without the reminder that moments earlier, the earth was cloaked in full darkness.
There is no joy or happiness or light in the world without understanding that the yang to that yin is sadness and anger. Similarly, there is an unspoken demand of we artists and writers, that we remember that the other side of this shadow-thing, this darkness, is always light?
I look at the breadth of this issue of Modern Creative Life,  and I see some of the best work from writers we've come to know and love. I see the brilliance of new voices, playing on the edges of what it means to be a maker and embrace what's lurking in the shadows so that we can shed light upon it and us and our work in the world.
When I first began writing my column for this month, I had planned to write about what my grandmother called "breaking up housekeeping".
I was going to talk about the purging of my childhood home, laying every household good out on tables for strangers to seek their own kind of treasures within the stuff that made up a life of another. But in truth, I can't bear to dwell upon that any longer. I can't think of how much my mother yearned for the chubby-cheeked children and messages of God's love in little statues, and how we sold those figurines for $5 a piece. I can't allow myself to dwell on the pans that made umpteen dinners or the big Tupperware container that always housed fruit salad at every holiday gathering.
One of the responsibilities we have as makers is to take our experiences of loss and change, and bleed them onto paper (and film) so that others have someone to sit beside them when they are grieving and processing tragedy and loss. Our mission is to ferry the sad and grieving to the other side, and remind them that they are not lost and will once again find light in their own souls.
So, instead, I mention it in passing to you and instead of picking at the edges of my own grief as a child would a scab on her knee, I want to share what I am doing –  in the face of all this darkness – to bring the edges of light to shine upon my own heart in the midst of grief and tragic news stories.
To share what is helping me look to the light instead of dwelling in the shadows. To share what is saving me from being forever lost in the dark and reminding me of how much joy there is to be had.
I am losing myself in the words and worlds of others. Poets and screenwriters. Novelists and photographers. Interior designers and food makers. Stories heal us.
I am seeking beauty. Flowers on the kitchen counter alongside bowls of fresh fruit. The way the light plays against the trees as it shifts through the days. And the trees, my God, how beautiful are the trees with their soft yellows and brilliant oranges? The rust colored grasses,
the brilliant mums, the cheery pumpkins placed on porches. I am buying additional beautiful purses –  just because. If I open my eyes and look around me, I always find beauty.
I am moving my body. My heart wants to sag and my thoughts want to pull at the edges of sadness, but if I just get my body moving into some sort of activity, it helps heal my soul a little and allows my thoughts and feelings to move through me instead of lingering.
I am marveling at the work of others. I edit and reread the stories and essays here in this magazine. I gaze for long moments at the stylish outfits an Instagram Fashion Gal wears and reach out to that photographer with the stunning photographs.
I am seeking tenderness. I am laying naked against John in those early moments of the morning as dawn approaches, just feeling his warmth and caring. I am squatting to eye level and looking into the eyes of children I speak to. I lay a reassuring hand on the arm of an acquaintance as she shares a moment of her life.
I am nourishing my mind and soul. I am reading lots of cozy mysteries. I am taking extra time choosing vegetables when I grocery shop. I am unfollowing politically-focused friends and doom-spreaders.  I am spending more time just be-ing instead of do-ing. I am protecting what I consume when it comes to books, internet, and television. Discernment is my friend.
I am opening myself up to grace. I chose the words Unbound Grace as my guide-words for this year and I find that when I open myself up to every permeation of that meaning, I cannot but help feel a sense of lightness in my soul.
I am seeking humor. I am asking Alexa to tell me a joke and watching the ending of the last Big Bang Theory for maybe the fifth time this week. I am laughing at the brilliant excuses John can make between 5:30 and 6 AM as to why we should stay in bed all day instead of heading to work. I am laughing with friends over the silly little things that pepper each life if we just open our eyes to it.
I am purging things. I am tossing worn out sweaters and chipped plates. I am turning off the news when it feels overwhelming. I am tightening the circle of folks I allow into my inner circle, choosing to diminish my time and attention to those who bring me down or judge me.
I am witnessing other makers. I am consuming as much content by friends as I can – their Instagram, their blogs, their letters, their films in progress. I am catching stories and allowing mine to be caught as well.
I am praying. I am lighting candles of devotion and having conversations with God as I sip my first cup of coffee. I am returning to a written prayer journal, inscribing the names of loved ones and strangers onto paper with broad strokes of green tinged ink as I hope for blessings and love and comfort for them. I am cleaning my home, strewing blessings around me as I give thanks for this space that shelters me.
I am forcing myself to continue making. To write an entry for the new book. To photograph a holy moment and share it on Instagram. To make a meal that nourishes our bodies while tending my own soul.
It's easy as human beings to feel as if we are lost in the deep, dark woods without any hope of being found again. And it's as simple as looking to the sky, the filtering of light through the branches, shining pinpoints of light on the dappled forest ground, to find the start of our own paths out of the dark.
Because part of the commitment to living a creative life, the commitment I've made to curate a life that feels nourished and full and holy, depends upon me accepting the darkness in everything, but remembering that somewhere within it all are the edges of light and hope.
About the Author: Debra Smouse
Debra Smouse is a self-admitted Tarnished Southern Belle, life coach, and author of Clearing Brain Clutter: Discovering Your Heart's Desire and Clearing Soul Clutter: Creating Your Vision. When she's not vacuuming her couch, you'll find her reading or plotting when she can play her next round of golf. She's the Editor in Chief here at Modern Creative Life. Connect with her on Twitter, Facebook, and Instagram.