On the way to work this morning I drove by a hundred advertisements and flashing lights, dozens of billboards covered with intriguing colors and bare figures. I passed men and women walking, driving, on their phones, listening to music. I usually enjoy music or a podcast during my commute, but some mornings lately I've been leaving in silence and trying to soak it all in, to remind myself in the midst of those lights and colors that that message of "You should have this or do this or be this" isn't going to bring the happiness it guarantees.
I arrived earlier than I expected and decided to practice a meditation in the car. I know in my head that intention breeds contentment; but there are times, especially recently, when I've been at such a loss for energy that I've gone through the motions and lacked intention in the day.
For several years I've struggled with various health issues, beginning with a hormonal problem that's affected my organs, muscles, skeleton. When I first felt something going wrong in my body, I ignored the symptoms. I can't pinpoint the original moment, but I remember fragments tied together that make a messy mosaic of pain and discomfort. Losing sleep at night, losing the ability to carry anything remotely heavy, losing mobility. I remember trying to shift a backpack onto my shoulders and my arm going out of alignment. I remember the misery of going to work, being in the car, doing dishes. I lost the ability to drive, to pour water, to hold a dinner plate.
My mom had driven me to a healthcare professional for a regular treatment and the next day I could tell I needed another treatment. After scrambling to make another appointment, then rushing to the next city, we sat in the car together. I was reclining in the passenger seat, wearing a pink shirt-dress my cousin had given me looking at the cloudy sky; my mother hadn't turned the key in the ignition yet, her eyes filling with tears.
She turned to me and said, "It's worse than we thought, isn't it?"
In my mind I could see myself smiling and riding horseback, standing in line for a roller-coaster on a hot sunny day, running on a treadmill with energy and confidence. Those images were wiped clean and replaced with a picture of myself laying in bed, crouched over on a couch, limping to and from the car.
I know my imagination can be a drama factory, which is part of why I had spent years ignoring myself, denying the reality of the pain I was in.
Something about those pictures in my mind rang true to me in a way that my imagination's reel rarely does. I felt it- I felt the loss of the person I had been and I felt a pricking in my fingers that told me that there was a new person I was becoming, and I couldn't control the body that person lived in. It was a bizarre and palpable feeling. I could feel myself changing, as not even adolescence had changed me.
My illness reached the point where I had to call all my clients and tell them I was unable to continue my work. I changed doctors, as mine wasn't providing the care I needed. And I started to make a plan for my new life.
I've had to rework my plan several times, as my health has improved and weakened over the years. Coming up on the anniversary of when I was first diagnosed, I am trying to regain intention.
Everywhere throughout our winding life-paths we encounter those blinding lights, flashing signs telling us which way to go, what we should desire. Who we should be. I am trying to ignore the distractions, the alluring siren cries of what society and my own brokenness tell me I should be.
There's a new image I've had in my mind this week. I've seen a version of myself who is strong, and gentle.
Someone who takes sadness and turns it into pure gold, who can work harder every day and burn through the bar that I had set so low for my body. I'm trying to reshape my expectations to fuel the goal of who I want to be, instead of allowing pessimism to predict a mundane version of myself.
This is a whole area of creativity that those of us who are "makers" can sometimes neglect; the making of ourselves.
In a podcast I listened to recently the speaker talked about people who have suffered from chronic pain, how they begin to own their pain and make it a part of their identity. With the history of mankind and the way current events are trending, we can absolutely guarantee that all of us will at some time feel pain and suffer. The heroes we admire in folklore, on the silver screen and in real life are people who overcome their disadvantages, their pain, and make something of their situations, in spite of fear or obstacles.
As I listened to this podcast I realized that I didn't want the pain I have experienced for so many years, the weakness, or the fear of it to be "my pain". I don't want to be victimized by any of the health issues I've experienced. I don't want my identity to be what's wrong with me.
Last night I turned on the ceiling fan, shifted some new furniture out of my way, and fell onto the couch, brushing my bangs aside. I felt strong in a way that I never thought I would again. I've been managing stress better, exercising more, eating nutritiously; when I eat junk food my body's been keeping pace better.
Then I stood up to open the window and pulled a muscle in my neck.
All that confidence was shattered as I sat stiff and crying on the couch, waiting for the waves of fear and disappointment to roll over me. They came; but the waters stilled sooner than before. I kept picturing in my mind the person that I want to be, but I didn't let myself grieve over that image this time. I chose to believe she was in my reach.
Someone with strength, with endurance and stability, who might one day ride a horse or even a roller coaster.
I see those billboards every day, I hear in our music that alluring idea of hypersexuality, affluent lifestyle standards, drinking till you drop, and I see how all of these ideas call us to indulgence. Online I read articles that tout self-care while encouraging lavish living. Treating yourself is, in my opinion, a necessity in life and taking care of yourself of utmost importance.
Yet in my short life, I've experienced far more satisfaction from discipline and self control than from indulgence.
Indulgence led me down a path that said I was as strong as I pretended to be, that my behavior wouldn't have any affect on my well-being. It was through the constant practice of disciplines, emotional and physical, that I was able to get to where I am now, and I don't want to jeopardize that by falling for the lies that leave their seeds everywhere waiting to take root in our minds.
I don't want an ideal body, I want a strong one.
I don't want to be able to drink as much coffee or alcohol as I used to. I want to be able to eat food that gives me life and energy and confidence. And I don't want to be surrounded by excess, or fueled by a desire for material gain. I want contentment, joy, and acceptance that strives for excellence.
In the lifelong ambition of creating myself, I want to be able to remember, when I fail, how to go back to intention, to that strength that I know I could have; that perhaps I have had all along.
About the Author: Emma Gazley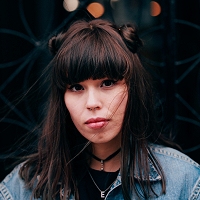 Emma Gazley is an artist, musician, writer, adventurer and teacher. Born to two adventurous parents, Emma was destined to be an explorer of the world, and from her earliest moments displayed signs of creativity and curiosity. She has spent time in Europe, Asia, Canada, and currently resides in the U.S. She began her journey of discovering her identity as an artist in 2012, after encountering critical health problems that caused her to lose her job and the ability to do most everyday activities. Many of her projects have, as a result of this event and others, a twinge of the painful and tragic aspects of life.
Emma is interested in learning about grief and how to cope with it, as well as passionate about finding joy in the day to day.