Daily Creativity is a routine that I developed years ago, to create something everyday, to only spend a day on it, and share it online. This was something I needed in my life, I was too distracted by everyday life and work pressures and my mood was suffering from the lack of my individual creativity. I was nudged in this direction from my partner, who could see from the outside how my mood was directly linked to creating.
I started the challenge as a Lent observance, for every day of Lent I would create. It was so positive that I continued it after. I am only truly strict for every single day in Lent, but am creating a lot more over the year as a result. Plus I am spending less time on each piece and procrastinating and planning a lot less too, the end result is more art, and a happier disposition. This year marks the seventh year of this project.
Creating something every day started a change in me. It allowed me to let go and to use my art as a form of self reflection and introspection. Like a diary or a journal my pieces would reflect things I was thinking about or feeling on that given day. This activity calms me. It stops me from thinking about work, my clients, the dishes in the sink, the bills that have to be paid, the laundry, or any of the other millions of things that come to my mind at any given moment. I sit down, it is me and my canvas. I let the world slip away and concentrate first on the line I'm drawing, then the shape, and then the full composition. Through the process I put up walls in my mind so I can become hyper focused on this one thing. In the end, I feel relaxed, calm, and accomplished.
Due to this regime I have been able to explore things within myself, and one of the big themes has resulted in my Love Your Body series. A series of pieces that celebrate the human form. I'm a fat woman, and many of my subjects are fat women. I practice fat acceptance through my art and while painting these figures I have been able to accept my own body and begun to love it. Coming to terms with a body society is focused on hating is a radical thing and it has improved other areas of my life. I'm more grounded, and focused on what is good for me, not what is expected of me. I'm happier, and I'm healthier. I take care of my body instead of punish it. I celebrate myself instead of hide.
Through my art I have also inspired others to come to terms with their body. My Love Your Body series is one of my top selling series. I have had people buy originals and prints and often the buyers share their stories with me and what the pieces mean to them. Stories of empowerment and self acceptance, accepting themselves and others. When I think about how some of my pieces are hung in living spaces of these people, inspiring them every day, I know my work has transcended my own experience and what it means to me.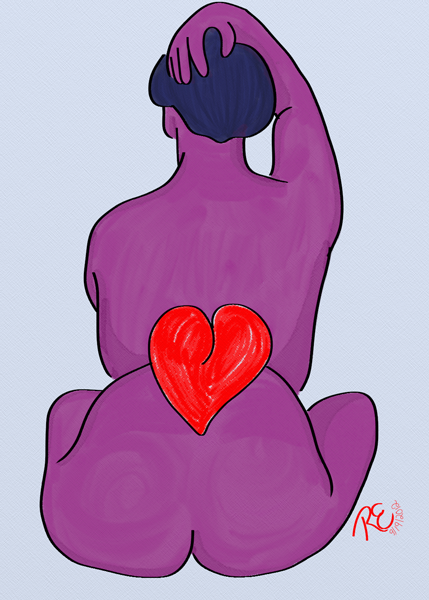 I use many mediums when creating art, and sometimes I have different incarnations. The image above was created by painting with my iPad using my favorite painting program, ArtRage. This was a daily piece that I then used as inspiration for an art show collection later. The piece below is an oil painting I created later from the original study. I rarely use representational color for my figures and use color to dictate light, shadow, mood, and emotion.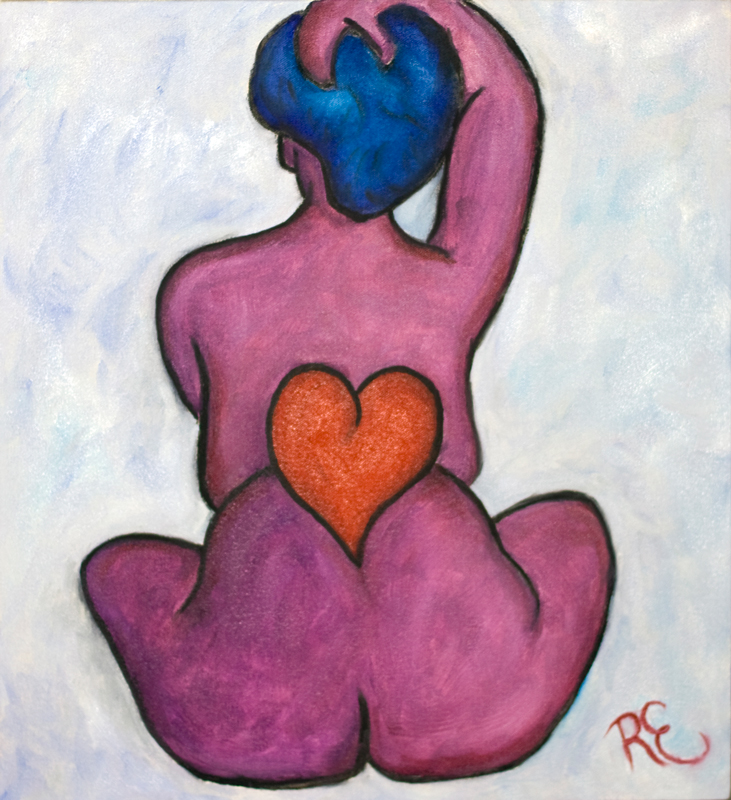 This piece was painted using watercolors. Using the colors of a sunset to capture the feeling of standing in the wind at the edge of a beach. That's what it felt like to me, but what the viewer sees will likely depend on their own experiences.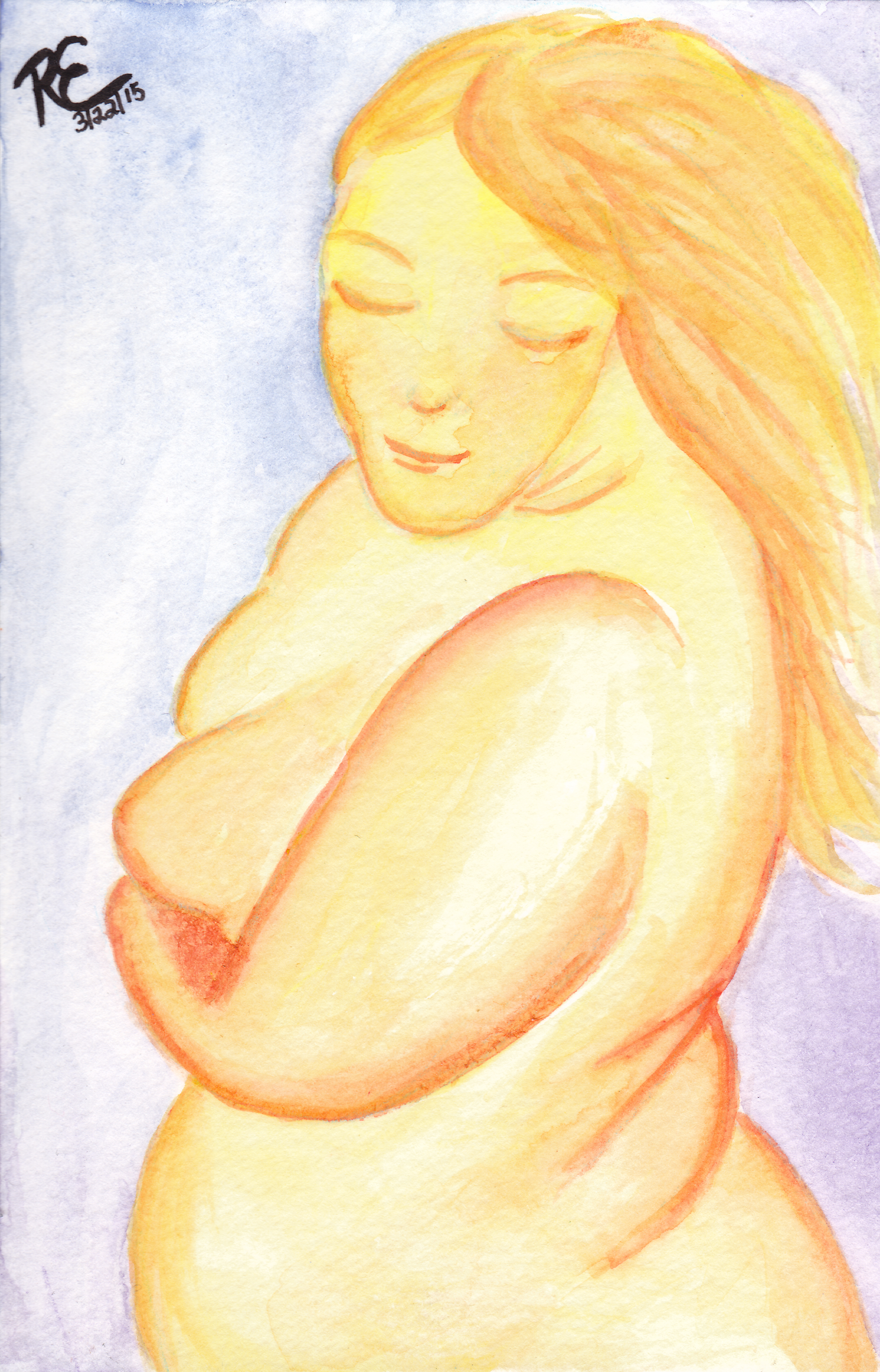 These next two pieces remind me of each other, but I used different models for them. The first was done with pastels and the second with graphite pencils. Each feels similar in the way they seem to be embracing themselves so content they are smiling. A
feeling I think we all want.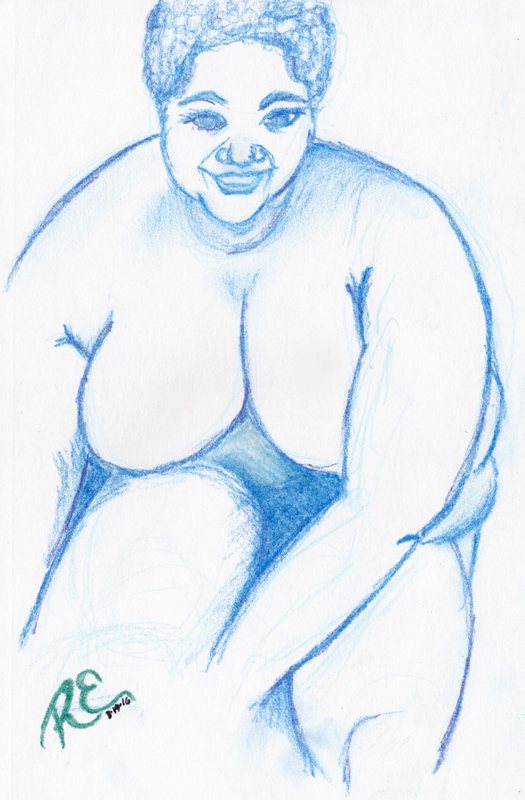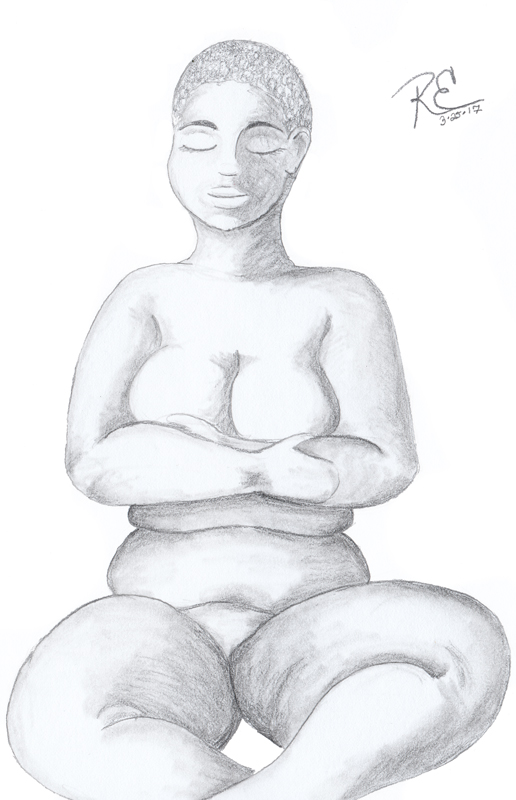 This year I started a new technique, I draw all the angles of a form in pencil and then go over it closely in ink with a brush pen. I like the simplistic look to it and fluid feel of the line. I'm still exploring the technique but this lets me find the movement and curves of a form's line without getting too caught up in the detail of every spot of light and shadow.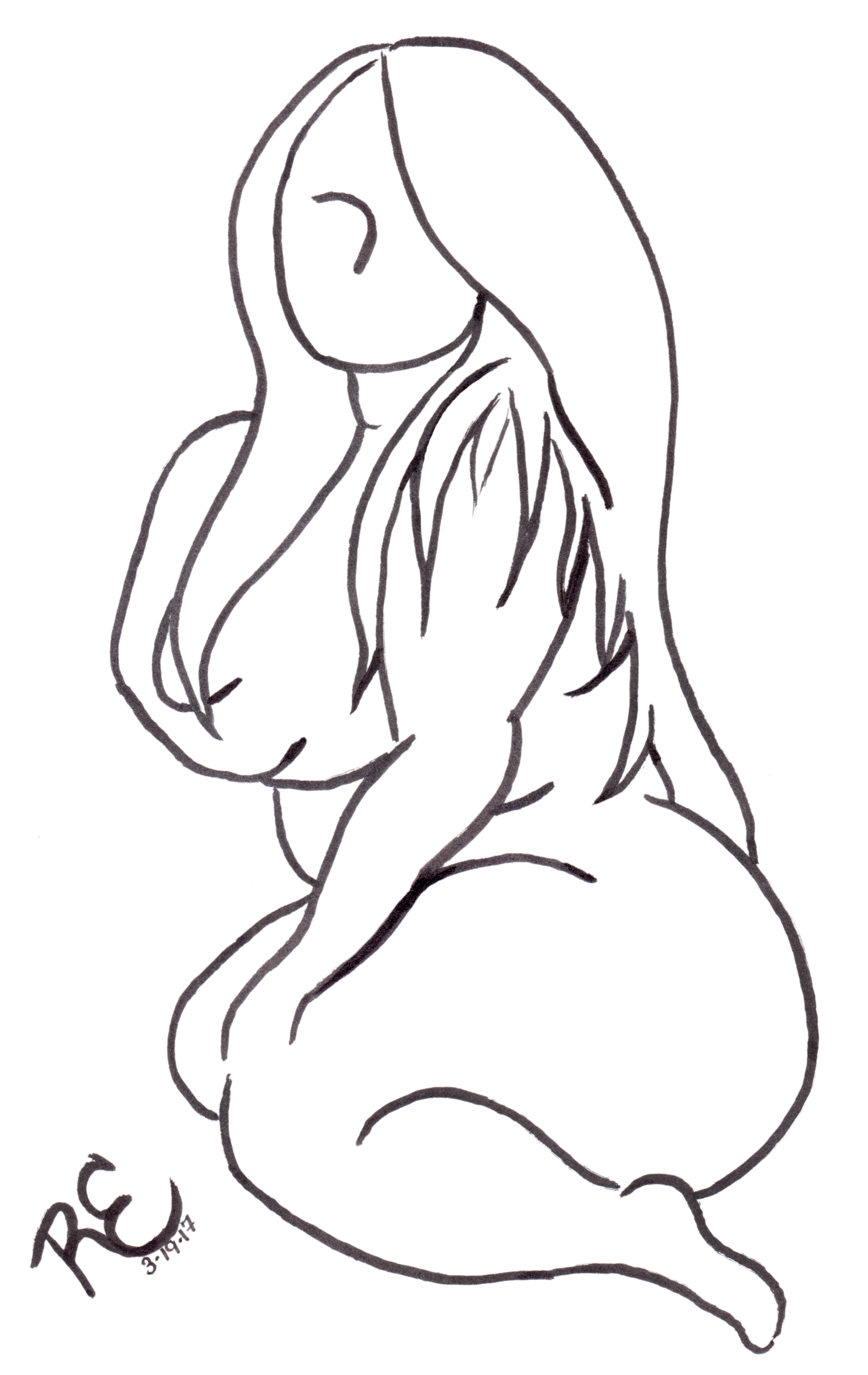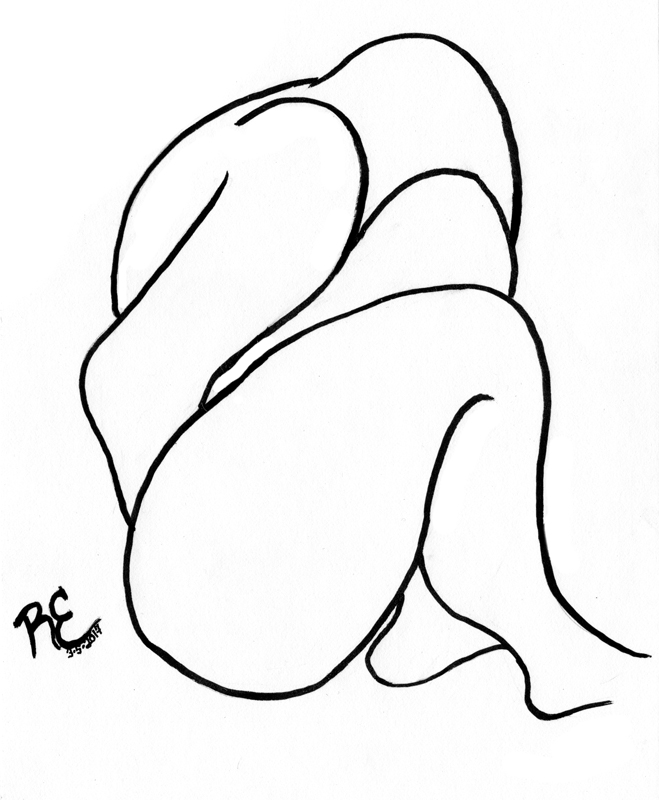 Lastly, this watercolor painting was modeled after a centerfold photo shoot Cass Elliot did in the 70s. It's inspiration to me; it's a bit of role modeling. I want to be this celebratory of myself. The original photo is a bit of a lie, as Cass struggled with her self image, and we all do. You don't get to a point in your life where you love yourself and that is it. It is a daily struggle, every day you must embrace who you are. Every day I can create is a day I get closer to that.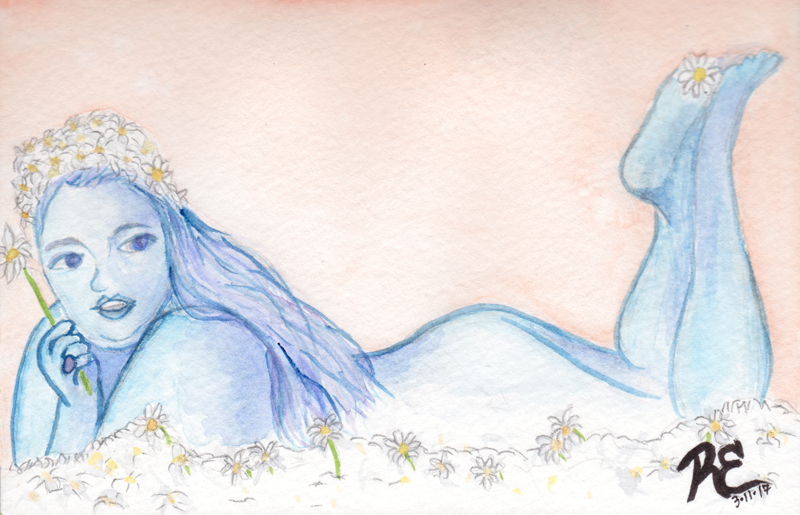 About the Author: Nuchtchas

Nuchtchas is an artist from NY, now living in Canada. Graphic Artist by day working in both web and print medium she finds fulfillment in creating fine art and podcasting. You can find more about her at nimlas.org