There has always been an artist that has lived inside of me. From the first moment I drew breath there has always been one. Maybe, it stems from past life experiences, maybe something else quite different. One can never be 100% certain where the muse comes from within.
Some chalk up creativity as the soul speaking magic out into the world. I hear it as a small voice inside my heart, whispering, "that's it…that's the one."
I have found Pinterest to be of great help and influence to which project I'd like to tackle next. I find it a great repository for great ideas, and great projects a like.
My husband is a wonderful help as well. Where I lack, he is right there next to me offering up advice, thoughts, suggestions, and love. He is a muse all in of himself. Many a day he looks at me with a sideways grin, it's like he knows…and says, "what's next?"
I have a great board of projects, ideas, things I'd like to accomplish; small and large alike. I have heard many a suggestion that Pinterest makes people, woman especially, feel that they need to do more, be more. Perfection is something that they try hard to attain. I've never looked or wanted for perfection. Just something to sink my teeth into, to reach my muse, to touch that part inside my heart that speaks to my soul.
I have worked hard over my 40 years to try all the artistic outlets that have spoken to me. Pencil drawings, charcoals, paint, ceramics, printmaking, sewing, sculpture, metalsmithing, weaving, and paper mache.
Woodworking has become my newest passion. I find so much wonder in it. I've always wanted to make furniture. In college I took a black smithing class and made a papison chair out of half round mild steel. I had so much hope at the beginning of the project, and was overjoyed at its completion. There is something to be said for handmade pieces made from the heart.
We recently repainted our foyer. It reminded me of what it would be like to paint with liquid cheddar cheese. I'm a huge Packer fan so the coloring seemed to fit well with football season on the way. I'd also been looking at gallery walls as well. Seeing how everyone's personal style gets reflected on a blank canvas like that of a long wall.
I find that looking at peoples personal style you can learn a lot about how eclectic their style can be. How far off the beaten path they like to walk, how much they like to express themselves out in the open.
I started this project with the idea that I could complete it from start to finish all by myself. With all things in life I have found that we are never alone. At least, I am never truly alone. I was mistaken to think that if I brought this project up to my husband he'd let me do it all on my own. It was even more foolish to show it to my wonderful father-in-law. Before I knew it this had become a group effort full of wonder and hope for what it would become.
My father-in-law with his woodworking shop in his basement took all the measurements. He cut all the pieces. He worked out everything I would need to put my puzzle together. To make my project work he did what he could to help; to be a part of it all. My husband offered support. Over the weeks our project slowly came together. In the end we were all the closer for it.
We now have a piece that we love, it hangs in our foyer. A testament to a group effort, to our fortitude to create something beautiful. Our wonder at what our project could become, and our budding hope that we'll be building together again soon.
About the Author: Keva Bartnick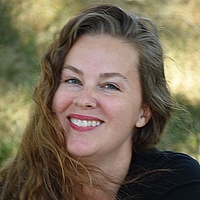 Keva Bartnick is an artist, writer, and lightworker. Happily married mother of three; she's been inspiring people to be their most courageous selves since 2015.
She can be found at Taleoftwofeathers.com