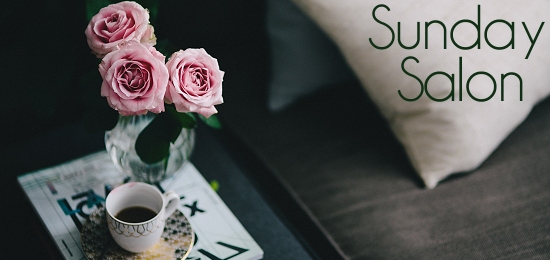 The month before Christmas is probably not the best time to go on a quest for quiet.
But, here I am, doing just that.
This idea of getting quiet first nudged its way into my mind as I watched Office Hours, a series of short videos author Dani Shapiro offered through Facebook during the past nine weeks. Shapiro talks about this concept of making space for your words – not just in time or place, although those are important, but in your mind. Doing that requires a willingness, but also an ability to get quiet.
My mind is always a very noisy place. It's filled with the din of worry (my little dog doesn't seem like herself, is she sick?), or responsibility (so much music to practice with concerts coming soon) or wonder (what will life be like when my husband retires next year?) When I startle myself awake at three o'clock in the morning, these are just a few of the thoughts that begin to clamor inside my head, spiraling like ticker tape on an endless loop, each one another bad investment of time and energy.
Because it's become increasingly clear to me that in order to create anything meaningful, you must find a wellspring of quiet within. Just like my office in the corner of our upstairs bedroom, you must retreat to that "room of your own" psychically as well as physically, must find a way to escape what Shapiro calls the "internal chatter" about life in general that can be so all-consuming.
But here we at almost December. It may be The Most Wonderful Time of the Year, it surely is one of the noisiest times of the year. For me as a musician, the "noise" is all too real. I play handbells in a group that travels with a truckload of bells and their associated equipment, a sum total of more than two complete piano keyboards full of noisemakers in varying sizes and shapes. The decibel level is astounding when you stand in the midst of it, as I will do for hours and hours in the coming weeks. There have been times in rehearsal lately when the overtones become literally deafening, and for a split second I lose the beat, the sense of rhythm that keeps me on track with the music.
The noise of the outside world is just as great right now, isn't it? The sense of urgency to have the best possible holiday, to have the most elaborate decorations, to attend the most fun gatherings, to get that oh-so-perfect present. Over the years I've mostly given myself a pass on all that hoopla. Doing five or six concerts in the month of December, each one consuming anywhere from six to ten hours of time (travel, set up, rehearsal, performance, tear down, travel), is more than enough excitement for me. By the end of a weekend of concertizing, all I long for is Quiet.
Where do I find it?
Yes, it's here in my comfortable chair in the upstairs bedroom, with stacks of books and journals piled on the ottoman beside me, making space for the words of a favorite author or poet.
It's sitting at the kitchen counter, drinking a cup of cinnamon tea, reading or staring out the window at birds flitting back and forth from the maple tree to the feeder and watching clouds skate across the blue sky.
Also on the yoga mat in my basement, moving my body through strengthening and stretching exercises, being aware of air moving in and out through my heart and lungs.
Quiet is in slowing down, taking time, noticing, focusing, breathing.
What I must remember in this quest for quiet is this: Quiet will not come to me unless I seek it out, unless I consciously make a place for it, a space for it. Unless I take myself upstairs to that chair, brew myself that cup of tea, unroll that mat on the basement floor. Why is that sometimes so hard? Why do I so often let the clutter and distractions  – the Noise of life – become an overwhelming melange of sound until I've lost my sense of direction?
I wish it were as simple as stopping the sound of a ringing handbell, a technique called "damping." Most often it's done by placing the rim of the bell against your shoulder. Sometimes, with larger bells, you need to press them into the padded table. With very small bells, you can damp almost furtively by touching the bell with your thumb.
I suppose the varying degrees of noisiness in life require similar variations in technique to quiet them. The clamor of those middle of the night high-anxiety sessions will need to be pressed firmly down, while the lesser noise of daily living – Facebook! Email! Commercials! – can be controlled with a flick of an "off" switch.
"I've come to realize," Shapiro says, "that the thing that stops me isn't the puppy, the e-mail, the UPS truck, the school conference, the phone, the laundry, the to-do lists. It's me that stops me." She recalls an osteopathic physician from whom she once received treatment. "'Things get stuck,' he said with a shrug. He gestured to the area where the neck meets the head. The place where the body ends and the mind begins. Things get stuck. It sounded so simple when he said it. It's me, and that things that are stuck. Standing in my own way."
Standing in my own way, making my own noise.
And so the quest for quiet begins but also ends where everything else does: with my own conscious effort and intention.
With stepping out of my own way and stepping into the quiet spaces around me.
May you find all the quiet you seek in these days ahead.
About the Author: Becca Rowan
Becca Rowan lives in Northville, Michigan with her husband and their two dogs. She is the author of Life in General, a book of personal and inspirational essays about the ways women navigate the passage into midlife. She is also a musician, and performs as a pianist and as a member of Classical Bells, a professional handbell ensemble. If she's not writing or playing music you'll likely find her out walking with the dogs or curled up on the couch reading with a cup of coffee (or glass of wine) close at hand. She loves to connect with readers at her blog, or on Facebook, Twitter, or Goodreads.