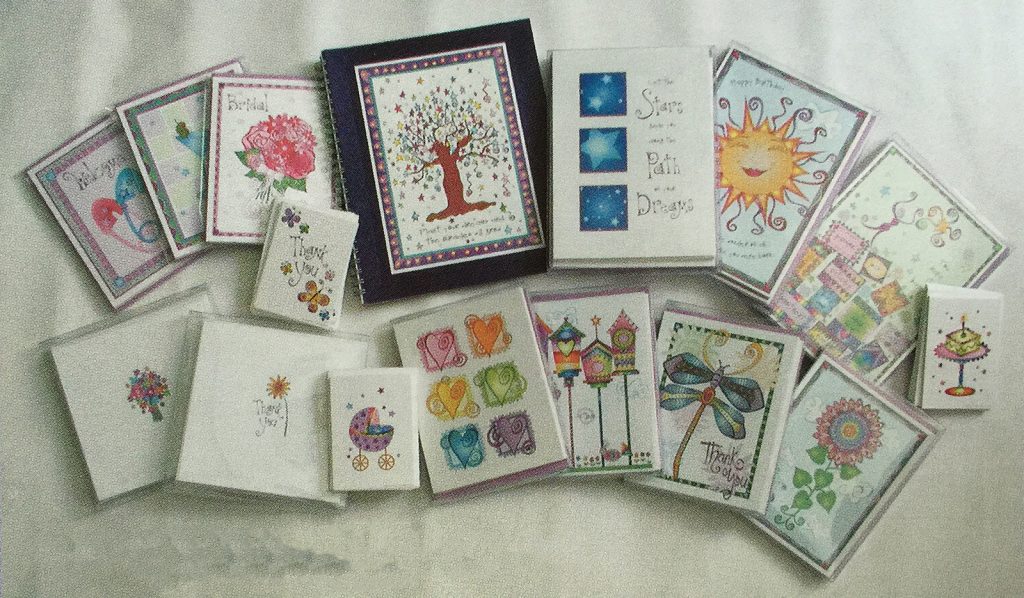 The postmark on the first letter was August 14, 2000. The red rubber stamp on the left side of the envelope read "C.R.C. State Prison." It was a letter from a woman named Nicole, who described herself as a "recovering addict serving a civil addict commitment at California Rehabilitation Center, Norco." I was five years into my own greeting card business at the time, and she'd received one of my cards. When she found my address on the back, she wrote to ask if I would donate materials to her—cards, cardstock, envelopes, and paper. At the close of her letter she wrote, "Your trash is my treasure."
I sent her a package the next day.
About two weeks later the next letter arrived, the same red "C.R.C. State Prison" stamp glaring on the front like neon. Packaged inside an envelope created from a brown paper bag, there was a handmade card on orange paper, a detailed illustration of a teddy bear wearing blue boots on the front. He was holding flowers and blowing on a dandelion, the little fluffy seedlings seeming to scatter off the edge of the card. There was color, shading, and depth created with glitter pens, magic marker, and pencil. It was Nicole again, saying the package I had sent her was denied. I'd included posters, which meant it exceeded the prison's size limits on mail.
I sent her a second package, smaller this time, no posters.
One month later I received a note from Tracie, who explained that a "friend had let her have one of my cards," and that if I sent a package it could not weigh more than three pounds. She said she was allowed to receive paper, cards, envelopes, and stamps. The prison would also accept pens, as long as they had clear, see-through barrels. She wrote her letter in ballpoint on a piece of stationery with five geese on the front, each adorned with blue and white polka dotted bows around their necks.
I sent her a package, under three pounds.
Six weeks later—another letter. It was from Stephanie, who wrote in purple ink in loose, large handwriting on the back side of the paper with the three binder holes on the right. She was succinct and direct, saying she had "seen a few of my cards around" and was wondering if I could send her a "variety pack or assorted pack" of my cards.
I sent her a package of assorted cards with envelopes.
The next two letters arrived within two weeks, a few days after Thanksgiving. One was from Gretchen, who wrote in ballpoint pen on loose-leaf paper. She detailed her love of cards, how she enjoyed sending them, and that she thought mine were "some very nice cards." She went on to explain which card she received from another inmate, describing the image and colors in detail—it was blue with a moon and stars. I knew exactly which card she was talking about. She told me she mailed it to her husband the same day she received it.
The other letter was written in large black script from a woman named Sasha, who got right down to business: "I'm writing requesting to know if there is anyway of receiving greeting cards from this company…to send to my boys and family."
Two packages were mailed the same afternoon.
The month of December passed with exponentially more letters in my mailbox each week —two letters the first week, seven the week after, eleven before the new year. Thirteen more letters came in January, so I contacted the C.R.C. directly with an offer to send a large inventory of cards and envelopes to be distributed to the inmates. The arrivals from the C.R.C. in my mailbox dwindled quickly after that. The last letter I received was postmarked December 26, 2001.
Most letters were requests for cards written on loose-leaf paper, but I also received thank you notes on bright blue stationery, envelopes adorned with curlicue script, and letters mailed in envelopes I'd mailed not long before. Barbara told me she had three children and explained, "They need me more than a card, but until I can be there I would like to brighten their day." A woman named Tanya began her letter with "I'm here in prison." There were references to children, recovery, families, and addiction. There were misspelled words and notes written on pieces of paper torn in half. All letters were courteous, appreciative, and forthright. None of the women tried to tiptoe around the fact that she was in prison.
**   **   **
A greeting card business is a funny thing. By the time I started receiving these letters, I had been running one called Swirly for almost five years. I started it when I was twenty-seven years old with a grand vision of inspiring the world. I was not interested in merely designing and selling cards, I wanted to spread messages of encouragement and light the way for others to follow their dreams. One of my very first designs was an illustration of a tree with stars all over its branches. Its caption read "Plant Your Dreams and the Miracles will Grow", which became the Swirly tag line—the phrase attached to the back of every card, whether birthday, sympathy, or thank you. Swirly cards were whimsical and bold, filled with stars, ladybugs, and sunflowers. Vibrant and graphic, they were paired with envelopes the color of gumballs—purple, lime green, and turquoise.
Through Swirly, I aimed to spread positive messages about creating a meaningful life to people from all walks of life, so when I started receiving letters from the C.R.C., it never occurred to me to not respond. Everyone who wrote received a package that included a short note in which I tried to manage the delicate balance between being uplifting without pretending they weren't in prison. I did not write with any expectations of hearing from them again, and did not care if the main reason for their letters was boredom or the promise of something for nothing. If anything, the vision of prison gossip channels carrying news of a greeting card company willing to send free stationery gave me a peculiar kind of delight. Word obviously got around, and I kept imagining someone walking by another inmate's room, noticing a card with a bright, smiling sunflower and being told, "All you have to do is write her and she'll send you free cards!"
**   **   **
The women in the C.R.C. had made mistakes, but were in a program designed to steer them toward a healthier path. In a strange way, there was hope in their letters, even in the face of a few key details. When a stranger introduces herself by name and prison ID number, any ambiguity about the state of her life is wiped away. From all of the other letters I received (as I actually received a fair amount back in the day when social media didn't exist), it was easy to imagine any number of domestic scenes, such as one-story bungalows with lace curtains, cozy apartments with floral dish towels, and red brick townhouses with sleeping cats in the windows. With the letters from the C.R.C., it was hard to imagine much beyond a bed in a bare room with a worn out blanket. Even when trying to lean on the more purposeful aspect of their being in a center focused on rehabilitation, my imaginings were stark, crowded, and bland. Perhaps these details came to mind from watching Shawshank Redemption too many times, but I kept seeing the same details—linoleum, gray metal, and glaring fluorescent lights.
During the six years I ran my greeting card company—designing, printing, and packaging cards, filling orders, managing reps across the country, and eventually staying on top of more than twelve hundred accounts—I experienced a comically consistent flurry of reactions to the news that this was my job. I still marvel at how often people's eyes would light up when I told them I had a greeting card business. "Oh really?," someone would say, "My sister has always created great cards", or "I've always wanted to do that!"
Everyone seemed to know someone who was eager to crack into the greeting card business, and everyone thought it was a dreamy, rainbow-hued job that allowed me to spend all day everyday lost in drawings of cupcakes and flowers. So many people were asking for advice about the world of greeting cards I turned it into a consulting business, but stopped doing it after just a few clients. Seeing the look of disappointment on one face after another upon hearing the news that my vocation actually involved hard work became quickly dispiriting. Having spent so much time and energy figuring out how to do what I did on my own without a single business course to my name, I had no patience for people who wanted easy answers. I also sometimes wondered what they would think of being contacted by strangers from unsettling walks of life, such as prisons and state-run rehab centers.
Swirly evolved into a licensed brand with a product line that included everything from journals to watches. It came to life through a vision that extended far beyond its beginnings as a line of handmade greeting cards, and I wove this story as all of the women from Norco were in the midst of trying to unravel their sins. I was creating a company about following dreams while they were confined to routines, rules, and cells. Our worlds were so far apart, our experiences so wildly different, yet somehow our paths crossed. Through a strange confluence of greeting cards, mail, pens, and paper, our stories collided, and in that collision we each wrote a line in one another's narrative.
**   **   **
Years after those letters had arrived in mailbox, I spent an afternoon reading and re-organizing all of them, feeling a bittersweet sense of gratitude for everything the women had shared with me as I stacked them chronologically and tied ribbons around the bundles. For all their mundane simplicity—ballpoint ink on loose leaf paper—they were stark reminders of all the ways life can turn on a dime and testaments to the truth that there is always more to a story than I'll ever know. They made me aware of all the ways I, too, am capable of making monstrous, devastating mistakes that, whether intentional or not, could send my life down a path too dark and confining to imagine. They shined a light on the possibility that somehow, some way, I could have been the one sending letters from prison to a greeting card company asking for donations. To believe such a scenario could never happen, to believe I am somehow immune from life's larger mishaps, mistakes, and mess-ups, is to deny my very humanity. My flaws, rages, and inclinations toward self-preservation exist alongside my strengths, ambitions, and good intentions. I am human, and therefore capable of the entire spectrum of human behavior, including those of a criminal nature.
By acknowledging and embracing this truth, I recognize how indelibly connected I am not just to my family, friends, and kindreds, but to the women in the C.R.C. No matter what—no matter how far apart my story might feel from someone else's—there is always a thread connecting us, even through prison walls.
About the Author: Christine Mason Miller
Christine Mason Miller is an author and artist who has been inspiring others to create a meaningful life since 1995. Signed copies of her memoir, Moving Water, are now available at www.christinemasonmiller.com.
* Note:  All names have been changed.