I got a call from a friend who'd had a truly unbearable year. There appeared to be no end in sight, and instead of calling for a tarot reading for her future, she just wanted to know where she was – right now.
Tarot readings don't always go the way we expect. You can do a reading to see if you should get a divorce, and find that your partner isn't the only person who created space between the two of you. That allowing the only sex that enters the relationship to happen when you flip each other off while passing in the hall. You could go to the cards asking why you can't move up in your company, and the cards will tell you that you are in the wrong career.
The question you ask doesn't always point to the answer, and the answer is often found in fear. Fear of that hard conversation that might put your relationship back on track. Fear that you've invested time, money and training in a career that doesn't work for you.
Instead of looking into the future, it can be more helpful to find out what tools you have in hand, which things are holding you down, and which can lift you up. What is here, right now, to help you deal with getting through the day. Sometimes, you can't believe the Instagram shininess that encourages you that everything will be ok in the end – but the end isn't here yet.
Sometimes you just need to know that right now, here and now, you are ok.
You Are Here Spread:
(Cards in a cross – one on top, one left, one right, and one at the bottom)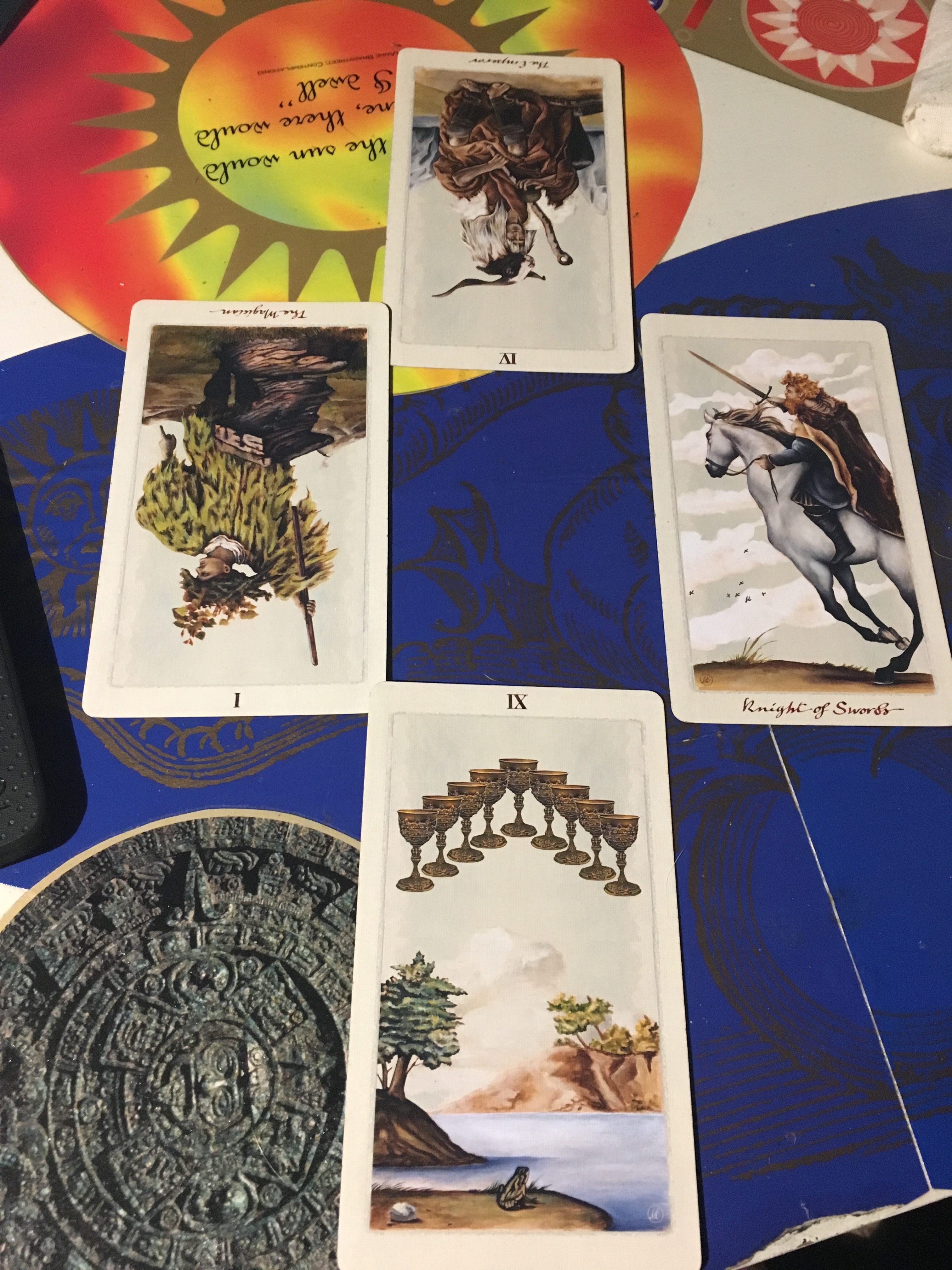 Card 1 – What can you reach for – right now – that will help lift you up?
Card 2 – What can you release that is making your day more difficult?
Card 3 – What tool is within reach that will help you have a position of strength?
Card 4 – What will hold you up until the light at the end of the tunnel gets closer? What if your main support?
This reading can be repeated as often as you need it. When you want to move forward, you can tuck it in your back pocket for the next time. Remember that often, when you don't know where to go, the best thing to do is sit down. Gain your strength, and breathe.
About the Author: Melissa Cynova
Melissa Cynova is owner of Little Fox Tarot, and has been reading tarot cards and teaching classes since 1989. She can be found in the St. Louis area, and is available for personal readings, parties and beginner and advanced tarot classes. Her first book, Kitchen Table Tarot, was recently published by Llewellyn Publishing. Melissa lives in St. Louis with her kiddos, her husband, Joe, two cats, two dogs and her tortoise, Phil.
You can reach Melissa at lis@littlefoxtarot.com. She is on Twitter and Instagram under Little Fox Tarot. Go ahead and schedule a reading – she already knows you want one.
Editor's Note:  Tarot Cards are from the "Pagan Otherworlds Tarot" Deck.