She drives home on a dead-straight
two-lane highway, listens to the CD
of the author reading,
I Am Offering this Poem.
His lines break off
in her mind, making space
for another and another.
His rich throaty voice
layers offering upon offering.
She feels like those times, in dreams,
or while drinking, when she thinks
she can finally see inside things.
She noses the car into the garage,
picks up his book on the passenger
seat, stares at his picture on the back cover,
eyes the color of slick-river rocks staring right at her.
When the world outside no longer cares
if you live or die; remember.
The last line a slow whisper,
I love you. His breath strokes
her skin. She sighs. Maybe next time
she'll meet someone who knocks her flat-out
crazy in lust with one poem.
Instead of some old, hairless guy
who wears white socks
with black dress shoes, says huh
one hundred times
in two hours, yet swears he doesn't have
a hearing problem. She shuffles into the house,
drops a kiss on her husband's bald head
as she passes his Barcalounger,
takes the book of poetry to bed.
About the Author: Pat West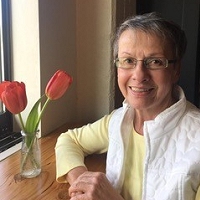 Pat Phillips West lives in Olympia, WA. A Pushcart and Best of the Net nominee, her work has appeared in Haunted Waters Press, Persimmon Tree, VoiceCatcher, San Pedro River Review, Slipstream, Gold Man Review and elsewhere.