I am not a morning person.
At 5:30 a.m., the 40-day kriya yoga practice I committed to seems like a terrible idea. There is faint light coming through my bedroom windows. The shadows hide danger – slippers I could trip over. A cold hairball left by my elderly cat; ready and waiting for my careless foot.
This is life in the gray. I want my life orderly and organized. Light, bright and clear over here please; dark, obscure and unknown over there. Where I can keep an eye on you, or better yet – a lid. Accelerating through bright flashes and dark voids is disorienting. The chaos feels a lot like living under a strobe light. Without the music. Without the Moet. Without the molly but with all the bashing and bruising of a righteous molly-whop.
Repeating patterns are what I see as I brew tea and prepare myself for this morning's meditation. Daily I work to discard what no longer
serves, to see old patterns dissolve while new ones take shape. Transcending both the old and the new by being in the present moment, in the breath, is the challenge of the morning. Every morning.
Today joy bubbles up and I laugh for no reason as I begin to chant. My hands form the mudras. Yesterday morning I wept. I had no other way to expel the rage and sorrow that climbed up my throat and had to come out but for which I found no words.
I'm riding a roller coaster – and how I hate roller coasters. But how else can the spark within grow and find its own expression? What lives in us ready to destroy and negate is also ready to create and affirm. Unleashing it is frightening, exhilarating, seductive – necessary.
Enhanced expression and communication is the purpose of this practice. I serve my clients through speaking (and active listening), so I can't work without my voice. I've suffered with a bad respiratory infection including laryngitis through most of this. The Universe was not going for subtlety. I began to question how I could help my clients find their voices – if I couldn't use, find or trust my own.
As day 35 drew to a close I was healthy, my voice was strong and I knew I was in the home stretch. I knew I could complete this and I felt clean and ready to receive. I reached day 40 primed and ready to say "yes" – to anything and everything. I am welcoming what I am offered; ready to embrace and accept and celebrate.
I didn't become a morning person. On day 41 I slept in.
I still don't like roller-coasters. You won't see me at the local street fair or at Six Flags Great America even though it's only a few miles away from where I live. You will see me here, often I hope. I've kindled the light inside and climbed out of the comfort zone where it was oh-so-easy to hide.
One of the greatest gifts of working with my clients is the chance to learn while teaching. I have the opportunity to grow by nurturing growth in another. The generous mentor and teacher leading the kriya shared her own experiences with us. She was transparent about her own challenges and triumphs, highs and lows. This gave me the freedom and space to do likewise with my own, and I am grateful.
The light, the dark, and all the various shades of gray look different to me now. They've opened to me for exploration and integration. The colors of the spectrum are alive in my body and in the world I look at with new awareness.
Good day.
About the Author: Dona Murphy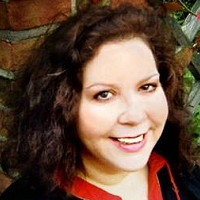 Dona Murphy is the owner of Destiny Tarot. She lives and works in Lake Bluff Illinois as a Tarot reader, Intuitive Counselor and Life Coach. Dona combines her metaphysical and spiritual studies, natural gifts and real-world experience to help her clients solve problems and live their best lives. As she says, "The cards don't predict your future, they help you create it".