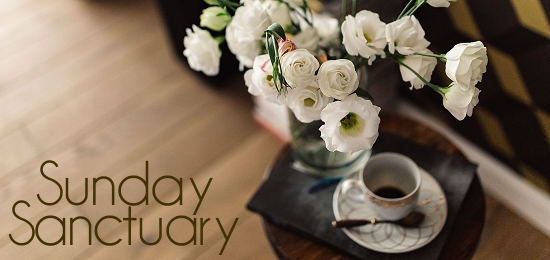 I've never been a purse person. Well, I've carried a purse since I was in junior high, but choosing a purse had always been about practicality: is there room for my wallet, some lipstick, and a couple of books? Oh, and a pen and a journal (or two).
What I never understood, though, was so many lady's love of the designer bag. Dooney and Bourke was a big deal in the 80's and I remember shaking my head when my friend DaLana splurged on one our Junior Year of High School and I wondered: why? Why pay all that money for a purse that gets stuffed in a locker or dropped on the floor in the movie theatre?
I'm all about functionality. I usually buy black purses and black wallets.
Up until last year, the most I'd ever spent on a purse was $50 back in 2006. And that was because the strap on my purse broke while I was in DC for work and the most practical purse – a Fossil messenger bag – was on sale at Macy's. And I had a coupon. It was black. It was serviceable. I carried it for at least three years until I just wore it out.
Then, last Christmas, I bought myself a cherry red Michael Kors Wallet at Macy's.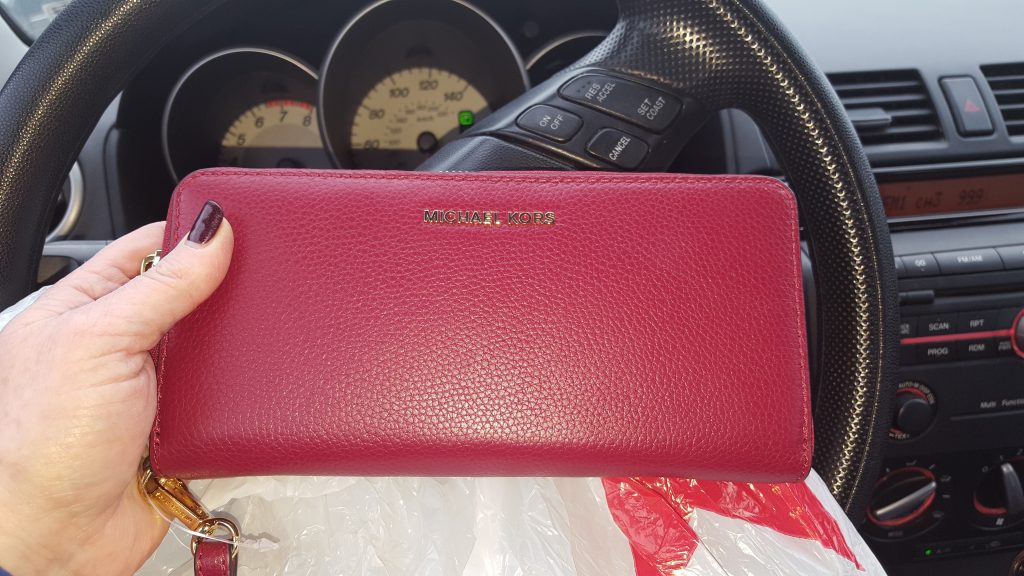 My previous wallet was small: just the width of a credit card. It was usable, but not stylish, and I'm sure I got it at Kohls or Target for $10 or less. Yet, it was falling apart. In addition to falling apart, I had just read an article from Briana Saussy and buying a New Wallet for the New Year as a way to put Mojo into your Money Mindset and invite prosperity into your life. After reading Bri's piece, I decided I needed a green, royal blue, or red wallet.
And yes, I looked at Target and Kohls for a "cheapie" wallet. Then it hit me: if I wanted to not only replace something that needed replacing, but also put the psychology behind it of choosing to invest in myself and the way I manage money, settling for a crappy clearance wallet wasn't the way to go.
Yet, it's in conflict with one of my core beliefs: use your good stuff every day. Wear your best perfume, use that china, and eat the best foods you can afford. And my experiment with higher quality make-up had shown to prove the adage "you get what you pay for".
And hadn't choosing to seduce my writing life by using beautiful journals shifted something within my soul?
And then there was the vow I made to myself shortly after the elections: I can't expect to change the world if I'm not even taking care of myself. So, I committed to performing at least one extreme act of self-care each month. I'd already survived a several thousand-dollar dental visit. And going for what's cheap doesn't sound like extreme self-care.
So, why not do it in leather? If this were to be an extreme act of self-care, then I needed to invest in something that was both beautiful and of high quality.
For months, I carried that beautiful cherry red leather wallet in a $10 Target fake-leather purse. Which in some ways makes me think about the Hannibal Lector said of Clarice Starling: good bag and cheap shoes.
That $10 Target Purse, barely a year old, was falling apart and needed replacing. I may lust after the iconic Quilted Chanel bag in Vogue or obsess over an Ox-Blood Coach thanks to regular emails from Dillard's, But the thought of spending triple figures on a purse just made that Inner Critic of mine begin to chastise me:
Who do you think you are?
What do you need with a designer bag?
Choose something practical.
And cheap.
Though I was looking for something more fun than hours at the dentist, this seemingly frivolous and surface level purchase wasn't just about replacing a wallet. It was about the psychology of self-care and my money mindset. Since that purchase, I have been treating money – and the ideas behind personal wealth – differently.
I also treat myself differently every time I pull out that cherry red wallet: more thoughtful treats, more investing in nice things, less buying the least expensive item on the rack, and less random indulgences on stuff I don't really need. What if a nicer purse could extend those feelings?
Then, a blessing arrived by email; a gift certificate to The Coach Store.
I'd coached a client through a challenging break-up. Yes, I'd gone above and beyond the norm, with daily calls and multiple emails and texts. But, I would do the same for any of my friends in the midst of a crisis. Providing kind words and thought-provoking questions in tandem, just as I would for anyone I cared for. He saw beyond me doing "my job" and wanted to give me a gift to show his appreciation.
We had talked about the need for him to treat himself: quality shoes, a beautiful briefcase, stylish clothes. So, he turned the tables on me, forcing me to walk my own talk. If I were to commit to extreme acts of self-care and if I were to encourage clients and readers to invest in themselves, and use their best stuff: shouldn't I invest in something for myself?
And let's face it, a purse is like a traveling sanctuary.
Your home for all things important, especially when you aren't at home. There, I have not just my wallet, but my library and Starbucks cards, which gives me easy access to the life bloods of life: books and coffee. My purse holds lipstick, hand lotion, and pens. Gum. Pens and journals. And, of course, a book and my phone.
I walked into the Coach store and welcomed like an old friend. Katie seemed more excited about my gift certificate than me and couldn't wait to help me find just the right bag. Not a purse, an investment in walking my talk. And I purposely didn't look at practical black bags. No, I looked at their bags in Prairie Print, OxBlood, Olive, and Saddle.
A new sanctuary for that wallet. And the four pens and my journals. And my Kindle and a paperback book. And two shades of lipstick. I wanted a bag that would hold not just one journal, but two. I wanted to be able to have at my fingertips everything possible to manage bad breath, a desire for a snack, the need to check in on the world, and escape in a good story.
I had expected a snooty sales lady and feeling out of place. Yet, Katie felt like an old friend and confessed that the leather lined bags meant you could spill an entire smoothie in there and not ruin the bag. "Don't ask me how I know!" she says as she sheepishly grins.
I left the Coach Store with a big bag, which inside contained a big black box wrapped with a copper colored ribbon. Inside was an Olive Leather Brooklyn Carryall, designed to hold it all (including a 13-inch laptop or tablet).
After unboxing it in my office – and storing the nifty storage bag – I discovered it would hold my wallet, a small make-up bag, two pairs of glasses, gum, my Kindle, two journals, four pens, two sets of earbuds, my phone, my iPod, and a book.
Then, an hour later, I got the call from my sister that my dad would be moving from the rehab hospital to hospice care in her house. Just two days earlier, I'd talked to my father and he sounded good. Stronger. Suddenly, the need for having a sanctuary in a bag became more real. This wasn't just about running to the grocery store and stopping for a coffee, this was now a space that would hold everything I needed to hop a plane and head to Dallas.
As I sat in the Dayton Airport waiting for my flight to board, I sent (another) thank you text to my client: blessings in leather, I told him.
That bag had everything I could need for both practical reasons and comfort. At the airport, I added a banana and a granola bar. It held handkerchiefs and lipstick. A bottle of water and credit cards. My much-needed journal and pens.
When I returned home from Daddy's funeral, I discovered that Coach had not forgotten me. In the mail was a handwritten thank you note from Katie informing me that I could bring my bag in for cleaning every three months at no charge for as long as I owned the bag.
After a week filled with grief and some drama, it was like a tiny love letter offering a port in the storm.
For me, it's not about being able to say I own a designer bag, the reason many women tell me they indulge in Louis Vuitton or Kate Spade because of the way buying one makes them feel about themselves. I've learned that investing in a quality handbag provides me with comfort away from home. To have at the end of my hand a handkerchief, a piece of gum, or a pen.
And I have to confess: carrying it makes me feel different about myself. All the way down to my soul.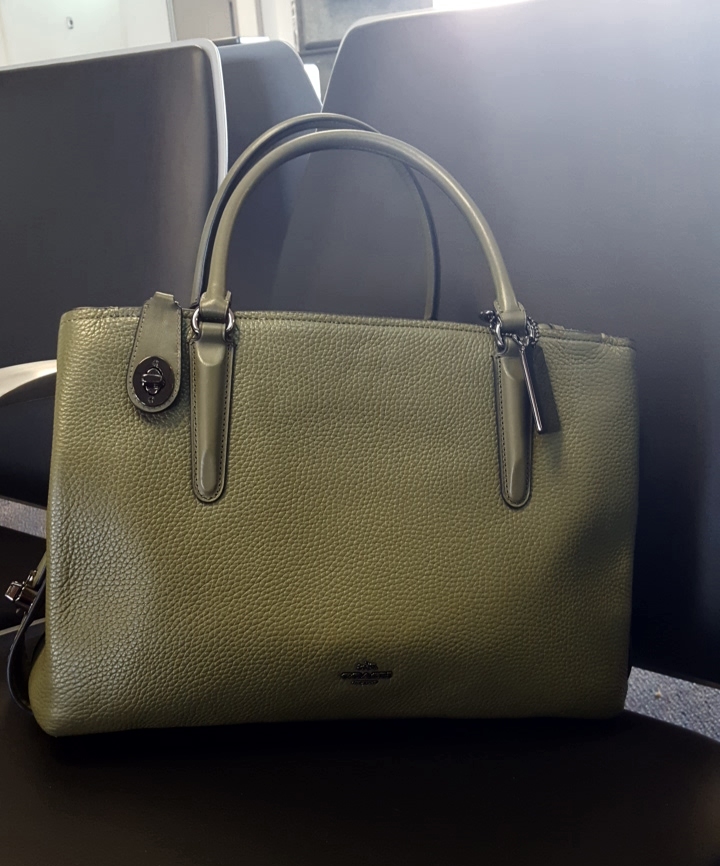 And I also was reminded that though I am simply a gal in Ohio with a single Coach purse, Coach wants me to feel valued as a customer. Investing in our relationship with taking care of me in a time when what I most need is a gentle gesture and kind word.
Blessings in leather, indeed.
About the Author: Debra Smouse
Debra Smouse is a self-admitted Tarnished Southern Belle, life coach, and author of Clearing Brain Clutter: Discovering Your Heart's Desire and Clearing Soul Clutter: Creating Your Vision. When she's not vacuuming her couch, you'll find her reading or plotting when she can play her next round of golf. She's the Editor in Chief here at Modern Creative Life. Connect with her on Twitter, Facebook, and Instagram.