When I saw the theme was "Hope & Wonder", I wasn't sure how to write about hope and wonder because lately it seems that I have been short on both. I don't know if you believe in God, or Spirit, or the Universe stepping in with a helping hand every once in a while, but I sure do.
Though this sounds like the strangest gift ever, when my mother-in-law got me a subscription to 'Prevention' magazine, I was thrilled. I love this about her, she seems to know what people need in their lives. She reminds me of Spirit in this way.  I had received the December issue in the mail sometime last week and have been too busy to open it. Seems to be that my editor and Spirit were on the same page, not that that should surprise you.
Sometimes waiting for a serendipitous moment takes some patience and a little luck.
Today I want to talk about "the pivot." The Pivot can be described as a mental transformation from a desire into an expectation, and life will sometimes deliver what you hope for. As described, it's the process of stopping destructive thoughts and consciously exchanging them for the best possible outlook. This outlook had been influenced by Esther Hicks, inspirational speaker and author. I ask myself:
"How can I use the Pivot to influence my outlook with the upcoming holiday season? To bring hope and wonder back into a season that has notoriously seemed to lack these sentiments for me?"
I have three young daughters. You'd think that these three minions would bring me all the hope and wonder that I could ever need in my life. They remind me of three hurricanes, smack dab in the middle of the Bermuda Triangle. Life is never boring. It feels like I meet myself coming and going. It's always windy.
I'm always trying to find my "wanna." My wanna to NOT do anything besides sitting on a beach somewhere with a drink in my hand, and my toes in the sand.
The last time I clearly remember feeling hope and wonder was the day they were born. Hoping that I don't screw this up, and wondering if I was going to be the best mom for them. Every day after that has been a blur. But having to write about hope and wonder has got me thinking about how far I've come. How using the pivot in my everyday life would make my simple everyday experiences better.
More meaningful moments are the bees knees, right?!
I am a person that believes that when I set my mind to changing the direction I am going nothing will stop me. The universe hears me and conspires in my favor. I truly believe that with my heart and soul. Maybe, just like the Grinch, my heart can grow three sizes bigger this holiday season.
Maybe, I can look on every rough moment and embrace my inner child, sticky fingers and all.
I believe that God, Spirit, the Universe gave me our three beautiful daughters to help me FIND my hope and wonder. To help me embrace the moments fully, to help me work on my pivoting skills. To help me feel young again, to make me a better person. I am blessed beyond measure. I find my hope and wonder in the little moments, looking at them look at the world with such a big light in their eyes. They are my hope and wonder expressed in human form.
About the Author: Keva Bartnick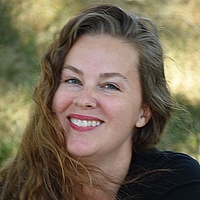 Keva Bartnick is an artist, writer, and lightworker. Happily married mother of three; she's been inspiring people to be their most courageous selves since 2015.
She can be found at Taleoftwofeathers.com