Let me set the scene.
It is a dark, cold Wednesday morning. The alarm rings for the second time. I dare not press the snooze option again for fear I will oversleep. I brace myself before turning back the warm flannel sheets – allowing the cold air to hit my legs as I swing them over the side of the bed. I'm partially awake now.
I grope for my glasses resting on the nightstand. I put them on and check my phone: 5:30am. Time to start the day.
I shuffle my way through the hall and down the steps. The pot of coffee I set to a timer the night before is ready. I pour myself a cup and head to my special seat in the family room. The Basset barely moves to make room, but I'm appreciative of his efforts to warm my spot. I find the remote and turn on the morning news.
… you will find a listing of school closings scrolling at the bottom of the screen.
I'm now fully awake. I watch the names of schools make their way across the television. Blue Valley… Bonner Springs… It will be a while before they reach the Os.
I try to keep my excitement under control. After all, these are the last weeks before the end of the semester. There is so much more work to do before finals. But…
Edgerton… Excelsior Springs…
I am prepared for class. All grading is complete. Lesson plans are in order. Photocopies made. The students are working on long-term writing projects. If we don't have school, they will know what to do at home.
Kearny … Lee's Summit…
So many school districts are closed. There's about three inches of snow on the ground now, making rush hour traffic slow and treacherous. News anchors are advising all to stay inside if possible. The forecast is for another six inches before nightfall.
Peculiar… Olathe…
 I let out an audible squeal. The basset gives me a look of disdain and returns to his slumber. A snow day!!
I'm not sure why I'm so fond of these special occasions. I am usually mature and reserved, but snow days bring out my inner child.
Perhaps it's because I grew up in Texas. I never experienced snow until we moved to Connecticut when I was twelve. And that first snow was magical. Rather than hard, pelting raindrops, soft silent flakes floated around me. The drab gray ground transformed into an unblemished swirl of white. Rain told me to stay safe indoors while the snow beckoned me to come outside and experience winter joy.
Of course, I understand the scientific cause: cold temperatures and moisture in the clouds create ice crystals that stick together and form snow before falling to the ground. The valid explanation, however, does not diminish the magic.
While I no longer choose to spend my snow days outside building snowmen or engaging in friendly snowball fights, I do relish the joy of an unexpected day off.
I light a fire in the fireplace and enjoy sipping an extra cup of hot coffee. Because my school work is complete, the day belongs to me – to do as I see fit. I refuse to sully the hours with mundane chores like laundry or housekeeping. This day is reserved for spontaneous creativity.
A portion of the morning hours will be spent reading that novel I bought months ago but never found the time to open. Today is the day to escape to that literary world.
Around noon I will inspect the refrigerator to see what I can make for dinner. I find enough leftovers and vegetables for a nice pot of soup and some melted cheese biscuits.
The afternoon hours may be spent on a craft project, like catching up on family scrapbooks or creating greeting cards for the upcoming year. If I'm in a particular culinary mood, I may scour the cookbooks for a new dessert recipe to try.
The leisurely day is bound to pass quickly. Before I know it, the dinner dishes will be washed and put away, and I will begin thinking about school tomorrow.
The magic of a snow day, however, is not limited to one 24-hour time period. The spontaneous day off is simply the catalyst to re-awakening our creativity. Once we open that novel, take out those craft supplies, or delve deeper into a personal project, we look for ways to continue.
We discover a ten-minute pocket of time between cleaning the kitchen and starting the nighttime routine. We set the alarm thirty minutes earlier to give us some quiet uninterrupted space. We turn off the comedy re-runs in favor of me-time.
I'm not sure who enjoys a snow day more: students, teachers, or the basset.
About the Author: Molly Totoro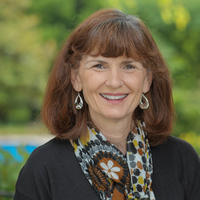 Molly Totoro is a Connecticut Yankee currently residing in the Midwest with her husband and trusty basset. While Molly retired from full-time teaching in 2014 to pursue her writing dreams, she continues to work with students to achieve their writing potential. Molly recently published her first book, Journaling Toward Wholeness: A 28-Day Plan to Develop a Journaling Practice with the hope of inspiring others to experience the health benefits of writing their inner thoughts.
Connect with Molly at her blog, My Cozy Book Nook and on social media: FaceBook – Twitter – Instagram– Pinterest