Calliope music, tinny and over-loud coming from the speakers, doesn't quite drown out the sounds of human voices: small children squealing in delight, parents warning them to hold on and be careful. The lights blur as I ride by, my painted pony leaping upwards and gently descending as it chases other ponies (and sleds) around and around in an endless circle.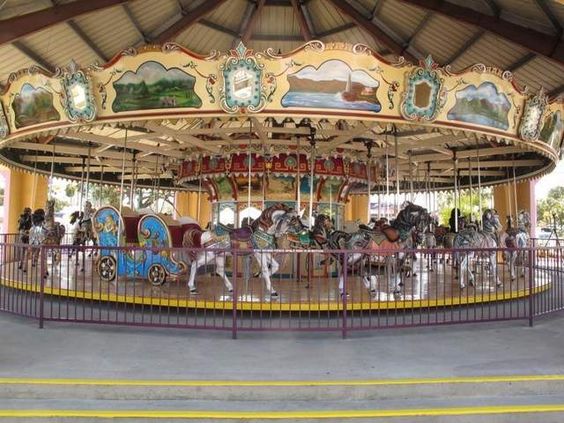 The music slows.
The lights resolve into individual incandescent bulbs.
The ponies stop.
With watery legs, I slide off my stalwart steed, jump from the platform and launch myself at the adult who has been watching me. My grandfather, most likely, or maybe my great-aunt Violet.
"Did you see? I caught the ring!" I ask, and their answer is a blend of weariness and positive reinforcement.
I am five, six, seven years old, and I've just ended a day at the Asbury Park boardwalk with a ride on the carousel.
* * *
Outside the carousel house, the twilight of evening is melting into full darkness. The scent of hot dogs and cotton candy mixes with the salty brine of sea and sand. The lights on the rollercoaster are reflected upon the glassy ocean.
The night feels made of magic.
I am twelve years old, and I have no idea that it will be the last time I see the boardwalk with its rides active, with children running back and forth, with indulgent parents and grandparents handing over money in exchange for pretzels with mustard, paper cones full of popcorn, or wax-coated bags of salt-water taffy.
On that night, surrounded by the teeming throngs of little kids racing for the teacups, kids my age who are at once too cool to be seen with their parents but not quite ready to be away from them, and older kids – teens, really – making out in the gondolas of the Ferris wheel, I cannot even fathom that such a thriving place – an icon of the Jersey Shore – will be a dead husk just a few years later.
* * *
It's 2009 and my husband, my parents, and I are on the east coast because my aunt – my mother's younger sister – got married a few days before, and we've extended our trip to visit family none of us have seen in years.
The October wind blows cold through the two layers of sweaters I'm wearing, but I turn my face into it, and let it push my hair back behind me. The ocean is deep blue and steel gray, primal and fierce, crashing its fists of white foam on the cold sand.
The boardwalk is empty, save for a few hard-core athletes, sheathed in thermal exercise gear and clutching their dogs' leashes as they pound down the slanted, weathered boards.
We leave Asbury Park, and head to the next town over, Ocean Grove, where the cute shops are open for business, hoping a few errant tourists will wander in.
My mother and I lived there for part of a year when I was nine, and walking those so-familiar streets fills me with bittersweet nostalgia. I liked my life when I was there, when it was just Mom and me in our apartment on the second floor, where you could see the ocean from the bathtub.
Even so, thirty years later, I must acknowledge, that her life and mine are both happier with all the changes that have taken place since then.
* * *
It is last Wednesday of March, 2017, and I'm in Asbury Park again, with just my husband this time.
We woke early that morning to the total darkness of the power being out, and the insistent keening of tornado sirens, drove to the airport feeling a bit shell-shocked, then landed, several hours later, under sunny skies.
Our hotel room has a view of the beach and vintage photos of the Jersey Shore on the walls, and after we have dinner – truly sinful burgers made of ground beef mixed with ground bacon – at a local pub, we go to the boardwalk.
The sun is low in the early-spring sky, and the air is chilly, but I find a bench and enjoy the peace of the waves, and smile at all the people walking their dogs, or just enjoying the pre-tourist season calm.
The city has changed since I was last here.
What was once a dead town is alive again.
Many of the Beaux-Arts buildings have been lovingly restored. The old Arcade is now home to small boutiques and a coffee roasting company (with a brewery right next door). Restaurants line the waterfront, and the town hosts many trendy eateries and bars – ethnic, Vegan, brunch – including (as their sidewalk sign proudly proclaims) "The Best Gay Bar in New Jersey." (I take their word for it.)
My husband walks off to explore the Arcade, to take pictures at my behest, and I stay on my bench.
It's probably just my imagination, but I can hear – very faintly – the sound of calliope music.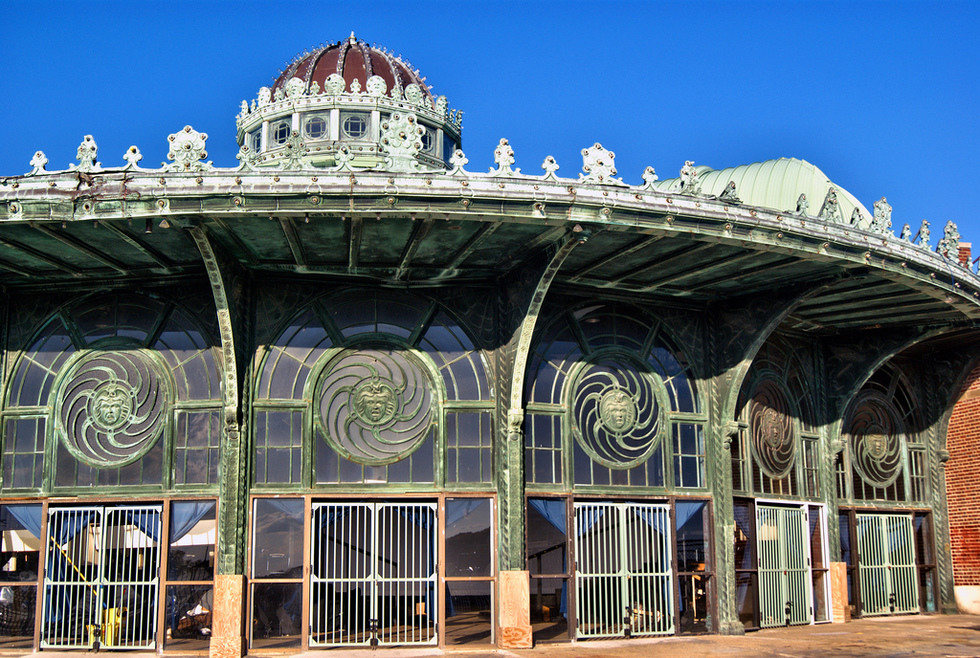 About the author: Melissa A. Bartell
Melissa is a writer, voice actor, podcaster, itinerant musician, voracious reader, and collector of hats and rescue dogs. She is the author of The Bathtub Mermaid: Tales from the Holiday Tub. You can learn more about her on her blog, or connect with her on on Facebook, Instagram, or Twitter.