At 6:00 a.m. Brett Dennen's Oh My Glorious begins to play on my cell phone. This is my daily alarm. I press the snooze button.
At 6:09 a.m., when the alarm goes off, I press snooze again. I stretch my arms up over my head and listen, trying to hear who is awake. Specifically wondering if my oldest son, a high schooler, is up and getting ready for school.
I slowly make my way out of bed, through the bathroom, and into the kitchen. I make coffee.
The high school bus comes at 6:40, then the intermediate school bus picks up my second son at 7:30,
and finally at 8:25 a.m. my daughter, the youngest, boards the elementary school bus.
In between I fill water bottles, answer questions, complete permission slips, and confirm whether it is an A day or a B day for the middle guy.
It is always a relief once everyone is where they need to be in the morning. I am grateful that my own schedule allows me to be present for my children in the morning.
From 6:00 a.m. to 8:25 a.m. my Tuesdays are typical. Once my daughter is on the bus and Johnny the dog and I go back into the house
from the bus stop, we eat breakfast. Kibbles for him and it could be anything for me. Eggs, oatmeal, or a smoothie.
After breakfast, my days vary quite a bit.
For the past 15 years, I've mostly been a mom about town. I'm not sure where the term "stay-at-home-mom" originated because while I understand the term in theory, I don't know any moms who get to simply stay at home.
I dream of keeping to a routine that starts with yoga and is followed by writing and art.
I have a second book I'd like to write and a business I'd like to nurture. Lately though, it is incredibly challenging just to keep my head above water.
Like so many families, we've got a lot in the mix. I keep forgetting appointments and assignments.
It could be that summer is in the air and I am ready for a break in the daily routine. Or maybe, it's all. Too. Much.
Our bodies weren't designed to take in as much as we are required to take in each day.
While I am grateful for my flexibility, I wince as my schedule fills with obligations and I sit in awe of parents who work in jobs full time as well as try to raise families. I'm not sure how anyone is doing what they do without going crazy or falling ill.
On top of all the stuff to do, there are emotions that require space and time to surface, spirits to tend to, and bodies that need nourishment and rest. We may not all be going crazy, but I know few people who aren't feeling stressed and overwhelmed these days. Everyone is just so damn busy and personally, I don't like it.
To invite more ease into my day, I have alarms set on the hour. These serve as reminders to take a deep breath. I stop what I'm doing and breathe as the Beatles sing Let it Be to me. If you're nearby, I'll invite you to take a deep breath too. Some people roll their eyes at me, but mostly my invitation is
well received. Eyes light up, heads nod, and we resume what we were doing feeling refreshed.
We must remember to breathe.
I long for a Typical Tuesday. I sometimes wonder what my days will look like when my kids have all moved out of the nest. Will I be bored and miserable? Or will I be living the dream with yoga, writing, art, and a daily lunch date with a dear friend?
In the space between, I try to build practices into my day that help it to feel more that typical than not—breakfast with Johnny, a deep breath on the hour, and a moment of gratitude for stillness and silence each morning amid a big, busy, chaotic life.
At 3:00 p.m. the high school bus pulls up to our driveway. My son rushes off the bus, checks the mailbox, and comes into the house. At 4:30 p.m. the younger two arrive home together. They're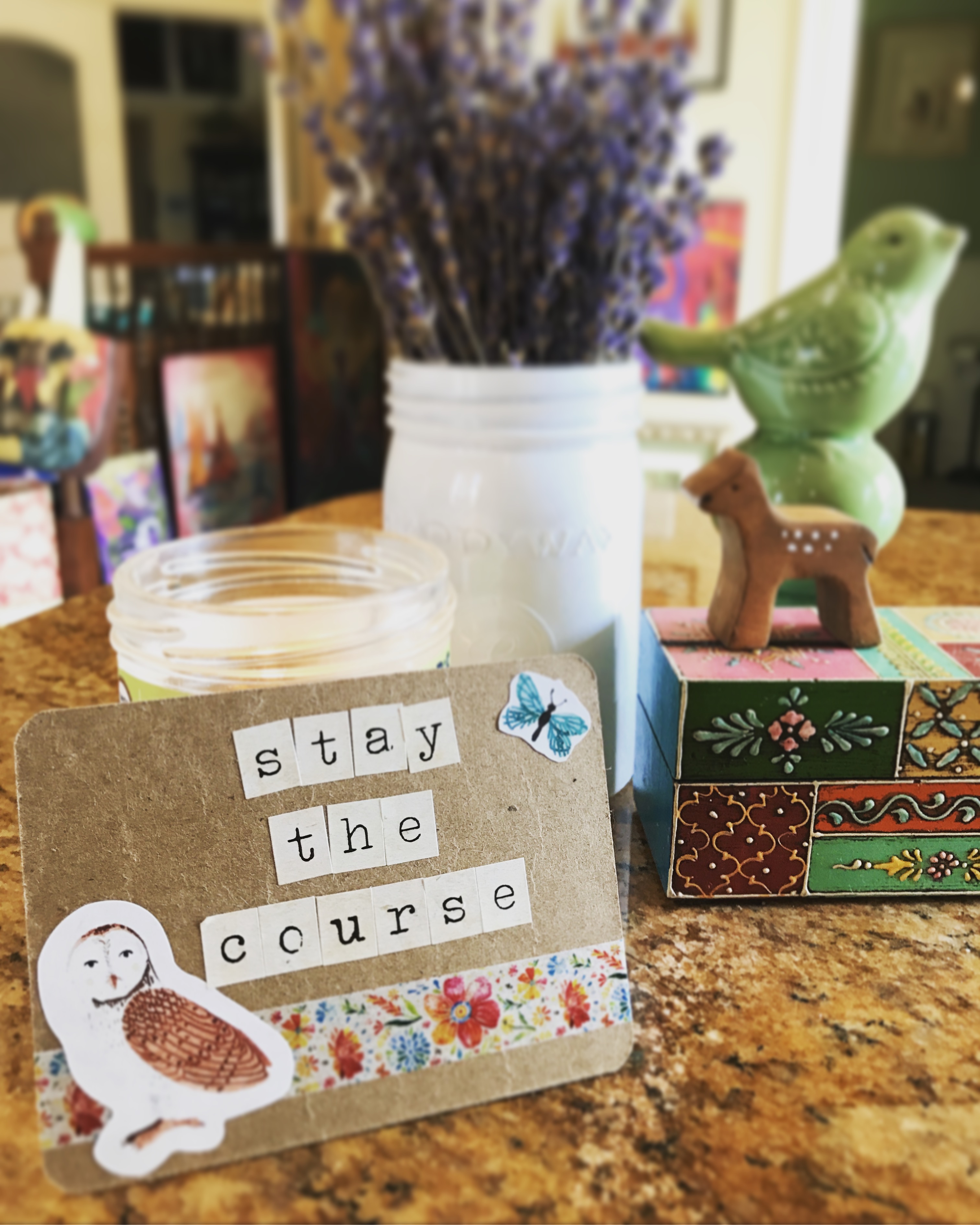 usually arguing before they even come through the door. Johnny stirs from his afternoon nap. I try to finish up whatever I'm working on in my studio.
My husband comes home at some point. We have dinner but no activities on Tuesdays. I'm trying very hard to stay present to all of it, as the days go by quickly turning into years and my children grow faster than I ever imagined growing into themselves.
Daily, I walk the balance between longing for more predictability while at the same time feeling grateful that for me, there isn't ever a Typical Tuesday. Not yet.
About the Author: Anna Oginsky
Anna Oginsky is the founder of Heart Connected, LLC, a small Michigan-based workshop and retreat business that creates opportunities for guests to tune in to their hearts and connect with the truth, wisdom, and power held there. Her work is inspired by connections made between spirituality, creativity, and community. Anna's first book, My New Friend, Grief, came as a result of years of learning to tune in to her own heart after the sudden loss of her father. In addition to writing, Anna uses healing tools like yoga, meditation, and making art in her offerings and in her own personal practice. She lives in Brighton, Michigan with her husband, their three children, and Johnny, the big yellow dog. Connect with her on her website; Twitter; Facebook; or Instagram.