I packed the last of the things left in my office into an already too-full box. A poster of Big Bird that had been on my office wall (where I would put it up at home was and remains a mystery), photos tacked to the bulletin board from PBS conferences, my personal reference books and a few odds and ends — a bobblehead of Doc Martin, a baseball signed by Ken Burns and Negro Baseball League legend Buck O'Neill, and a stuffed Abby Cadabby from Sesame Street. (She holds court now in my home art room!)
It wasn't the first box I hauled to the car but it was the last.
I had made my goodbyes to colleagues, some of whom I'd known for the past 32 years. No, longer — I started working at our public broadcasting station as a volunteer, then a student. How quickly that time had flown by.
But I was tired. And I hadn't been well for several months.
Our work environment was extremely stressful and had been that way for the two years leading into my retirement. There had been changes in command, office and departmental reshuffling, new supervisors, changing long developed habits. Most of our staff was operating in an environment that combined caution, fear, exhaustion and low morale.
I lived by the postcard of "The Moscow Rules" that had been given to me from a friend who had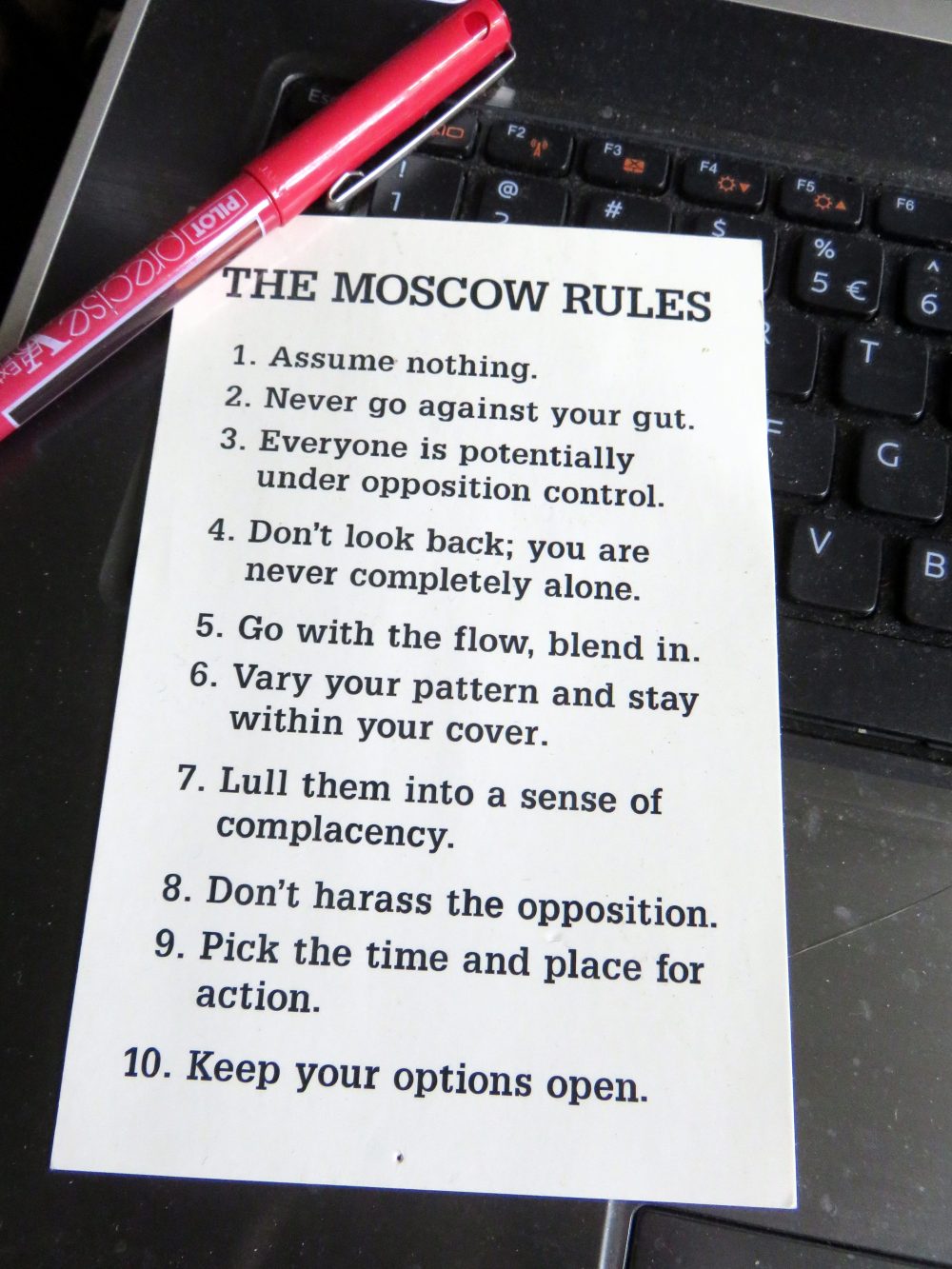 visited the International Spy Museum in Washington, DC. I kept it tucked in the back page of my daily calendar and I lived by the ten rules rigorously. These rules included, among others:
Assume Nothing
Go with the flow; blend in
Lull them into a sense of complacency
Don't look back; you are never completely alone
Don't harass the opposition
Pick the time and place for action.
It is a terrible way to live one third of the day, especially given that another third is spent in sleep, waiting to awake and do it all over again.
The tenth of the Moscow Rules is "Keep your options open." And it was this one that I had clung to. When I turned 62, the best option was to retire.
I preface this article with that background story because when you know it is time to refresh and restore your soul, you have to consider what you've been working with and what you need to be able to make those changes without feeling guilty for taking that very important time to simply "be."
I knew from the beginning that I didn't like the word "retire."It sounds so final – so "sit in your chair and watch TV" boring.
I had worked in a highly socialized and public environment and I was worried about missing that. I knew that I had loads of interests and hobbies and I had a lengthy laundry list of things I wanted to do or accomplish. But I wasn't quite sure how to begin. How would it feel to not get up every morning, dress for work, feed the cat, drive past the lottery billboard that sent me daydreaming for the last five minutes of my journey to work and not feel terribly guilty about it.
So I did the next best thing. I ran away by myself, heading to my summer cottage, shockingly still and peaceful in September after the summer people have removed their docks and gone home for the season.
I took long walks in the late summer air and read books while digging my feet into the cooler sand. I awoke to the cawing of gulls and big black birds, watched the nightly flotilla of ducks on the lake and took trips into town for the weekly market, quieter without the summer people jostling for space around the best of the September harvest. I savored the sunsets, ravishing with colors of hot pink, royal blue, brilliant orange, changing minute by minute until the sky was an inky black. I set no clock, eating when I was hungry, sleeping when I was tired. I unplugged, calling home but staying clear of the internet.
I visited people I had known who retired in Michigan's north country and as I spoke to each one I collected a list of tips about handling my new life.
"Make at least one date a week with a friend for socialization."
"Volunteer."
"Make lists to start with to keep you on track."
"Look at classes or workshops to learn a new skill."
All logical things. But they felt more important coming from those who had lived active lives in the workforce and now were living active lives in their new role. They were the not-so-retiring retirees.
A recently retired friend from home joined me for several days of art. We painted, created, took walks, drank wine, and talked for hours.
Bit by bit my battered soul had begun to heal.
Everyone refreshes, renews and restores in their own way. Some stay busy, never having a moment
to spare. Others walk with nature, and still more find their refreshment in travel, a sport or a hobby. And many of us do it combining our passions for action and stillness.
It's been nearly four years since I walked out that door. Since then I have been remarkably healthy for one with a chronic condition that was severe enough to motivate a major life change. It tells me a lot about what stress can do to damage your body, much less your soul.
I've followed much of the advice shared with me by those who had gone before, maintaining ongoing friendships and get-togethers with former colleagues, volunteering and focusing on my watercolors, showing remarkable improvement with practice.
And I still keep the Moscow Rules on the bulletin board at my desk. Many of them hold true for life, like "assume nothing" and "never go against your gut."
But the one that I think of most, the one I still live by is "Keep Your Options Open." After all, refreshment comes in many forms — and it's always good to be ready for whatever comes next.
About the Author: Jeanie Croope
After a long career in public broadcasting, Jeanie Croope is now doing all the things she loves — art, photography, writing, cooking, reading wonderful books and discovering a multitude of new creative passions. You can find her blogging about life and all the things she loves at The Marmelade Gypsy.