I heard about a Celtic belief that this realm and the next are separated by a veil that is substantially thinner in sacred sites. I was immediately intrigued and began researching how to experience these 'thin places' for myself.  It didn't take long to discover that it is almost easier to find information on what a thin place isn't than what one is. Thin Places are often holy sites but not all holy sites are thin.  Thin Places are generally quiet; not flashy or showy. If there is a gift shop it is likely not a  thin place. They are often not easily accessible. Okay… but what are they?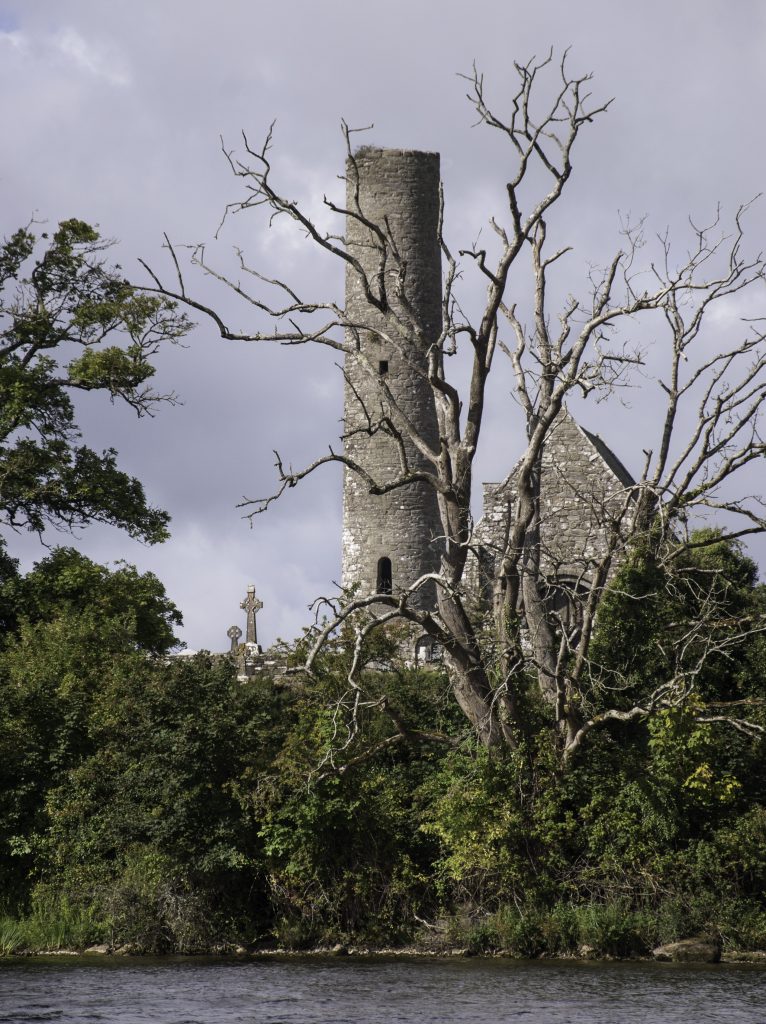 As a photographer I was unsure how I would capture this intangible element that I didn't entirely understand but trusted that I would do so in a way that was representative of my experience.  I had a list of suggested sites gleaned from many hours of research. The town of Mountshannon and nearby  Inis Cealtra, or Holy Island, had somehow managed to elude the books and websites I had referenced.  I learned of it from our host while checking into our cottage the day we arrived in Ireland.  She gave me contact information for Gerard, the boat captain, who has a tiny kiosk at the Mountshannon Harbor.  There he schedules boat rides and sells photos and books on the history of the 50 acre island, most of which he authored.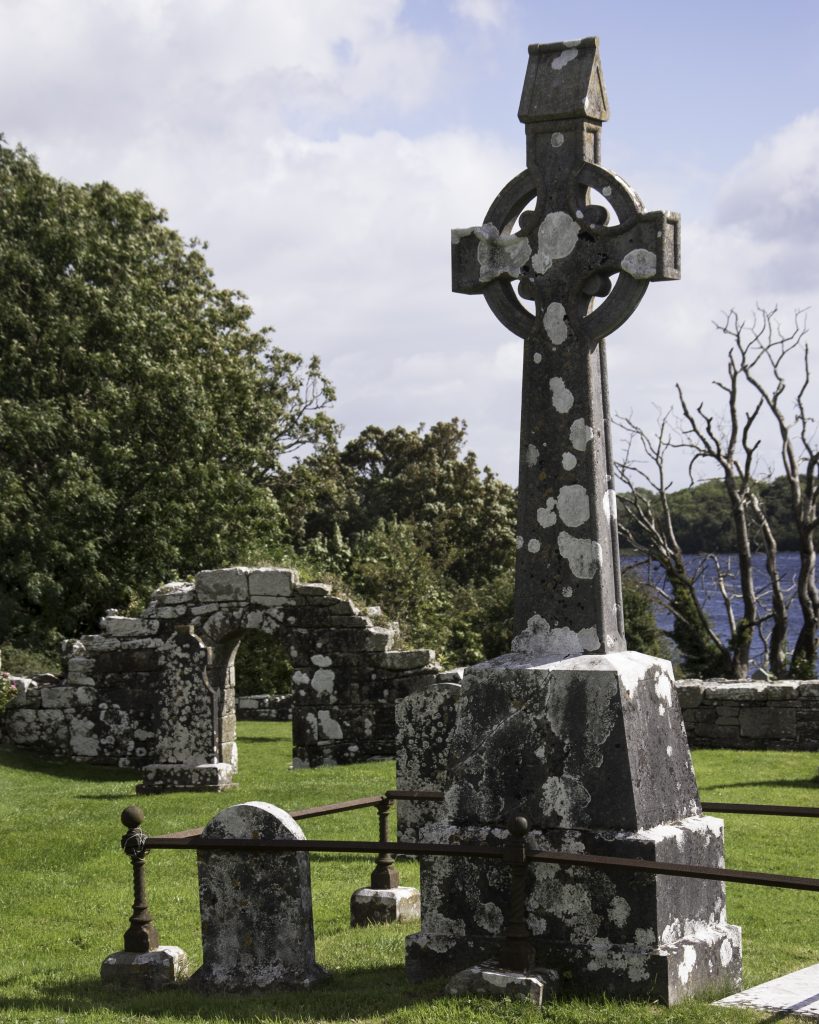 The island's artifacts, spanning in age over 6,000 years, illustrate its long existence as sacred ground. Dating back to 4,000 BC, Pagan bullaun stones with carved depressions to collect water are found across the island. There are five churches in various states of ruin and excavation as well as grave stones dated from 898 AD through present day. The island is peaceful, enchanting and bucolic, with cows grazing while they, too, walk the historic pilgrimage path around the island.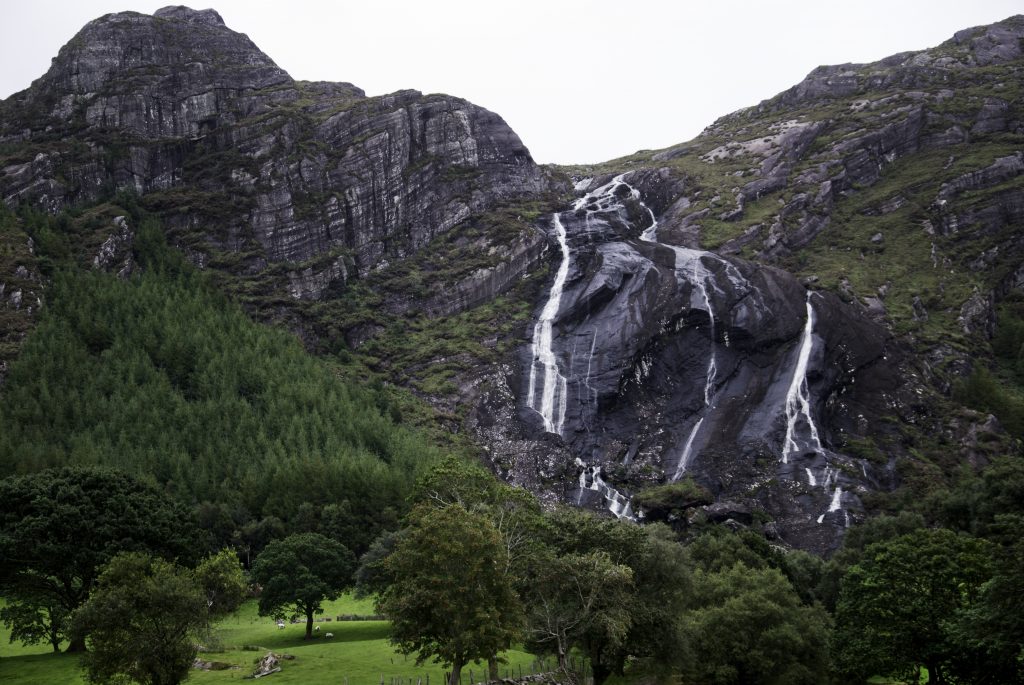 In Killaloe, Linda my travel companion, and I both felt deeply connected to a stone chapel built in the 6th century along the banks of the River Shannon. Saint Flannan's Cathedral was built 700 years later at the south end of the chapel,  an ornately carved screen separated the two spaces. We entered the chapel in reverent silence. Occupying the otherwise empty space was a scattering of ancient stone artifacts, including a high cross and a large stone inscribed in Viking script on one side and Ogham on the other. The massive wooden doors slammed shut behind us and a reverberating din filled the stone walls. The acoustics were amazing. I began to sing very softly, quite surprised that my voice carried through the building. Just as quietly, Linda joined me and our song echoed through the chapel.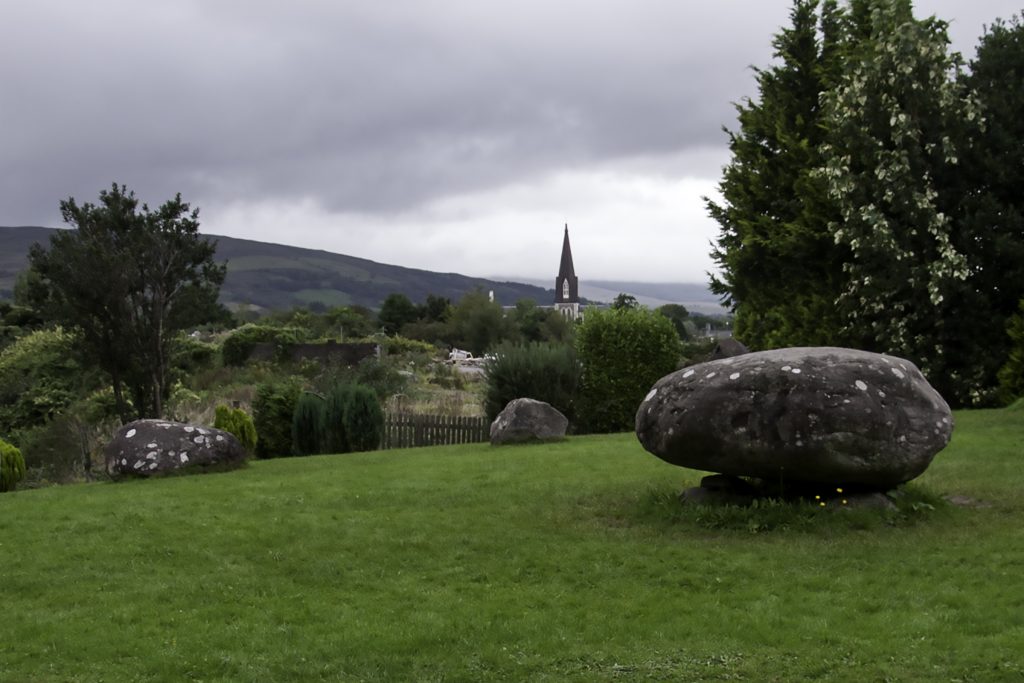 Stone circles dot the Irish countryside and predate Christianity, originating in the Bronze Age dating 2,000 – 4,000 BC.  Just standing amid these stones is bucket-list material. But placing my hands on the altar stone in the center of the circle, I was overwhelmed with an indescribable connectivity to the countless hands that had been laid on the same spot for six millennia.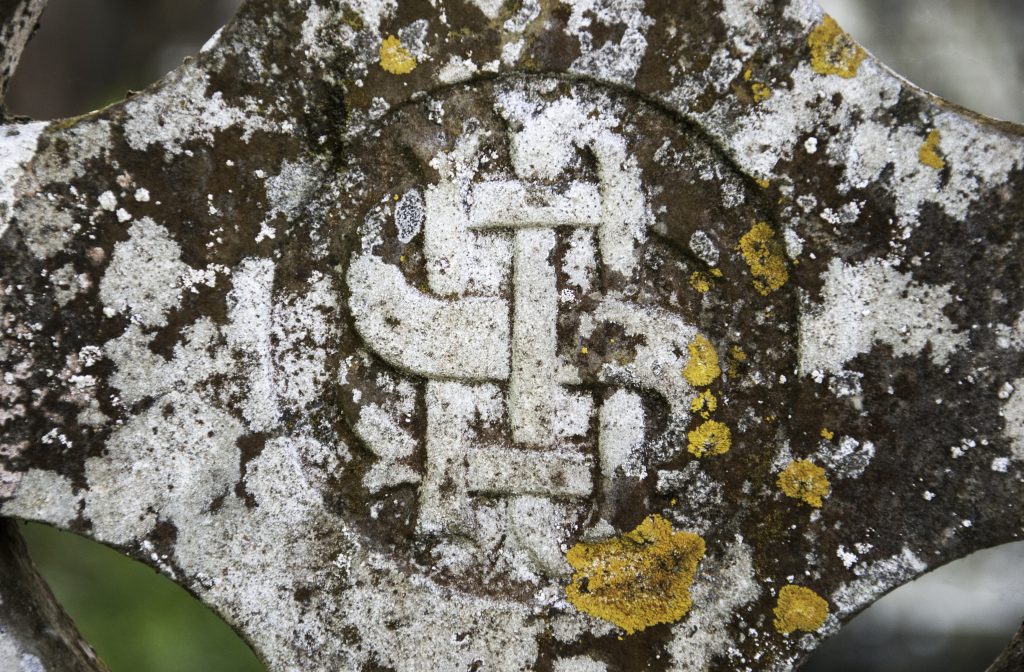 Some sources I researched cited the Cliffs of Moher as a thin place. This seemed counterintuitive to me. Between the cliffs and a huge bus-filled parking lot, is a large visitors center with several cafes and a numerous of gift shops. Instead, Linda and I parked in a dirt patch several miles from the visitor's center and its throngs of tourists. We walked alongside livestock pastures, traversed a number of stone walls and hiked in relative solitude as a small rise gave way to an Amuse Bouche for the eyes, there to delight and entice us with the promise of what lay ahead.  We arrived at a mossy bluff where the earth, sea and sky intertwine forming the beautiful tapestry of The Wild Atlantic Way.  This was an incredible vantage point to photograph the legendary cliffs.  I sat on the thick carpet of moss that cushioned and cradled me. I felt strangely compelled to put away my camera to be fully present.  This was a new phenomenon. I usually felt more present and more me with my camera in hand. Eyes closed and feeling completely at peace, I felt as if I was sitting in the lap of God; a little girl enveloped in the protective, loving arms of my Father.  It was not until the wind stung my wet cheeks that I realized I had been crying. Linda and I remained for hours on our bluff in silence, journaling and knowing we found the undefinable experience we had been seeking.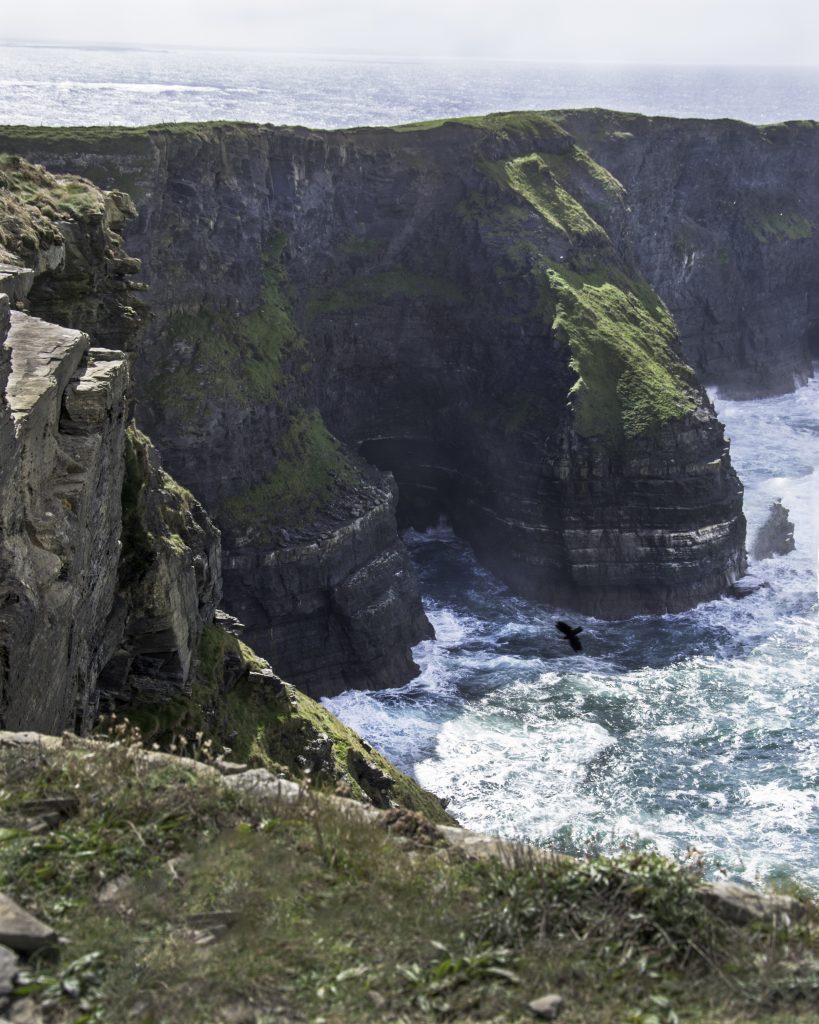 I do not believe it is necessary to travel to the British Isles for this experience. I think a thin place can be deeply personal. A space where the veil is whisper thin for me may not evoke those feelings for anyone else. I have such a place in the woods of Maine. A fern filled clearing under a canopy of leaves is my place to connect with the earth, myself and my faith; usually barefoot, always with gratitude.  My thin place is not marked on any map or on a list of sacred grounds. I can return there, or to the mossy cliffs, by simply closing my eyes and opening my mind.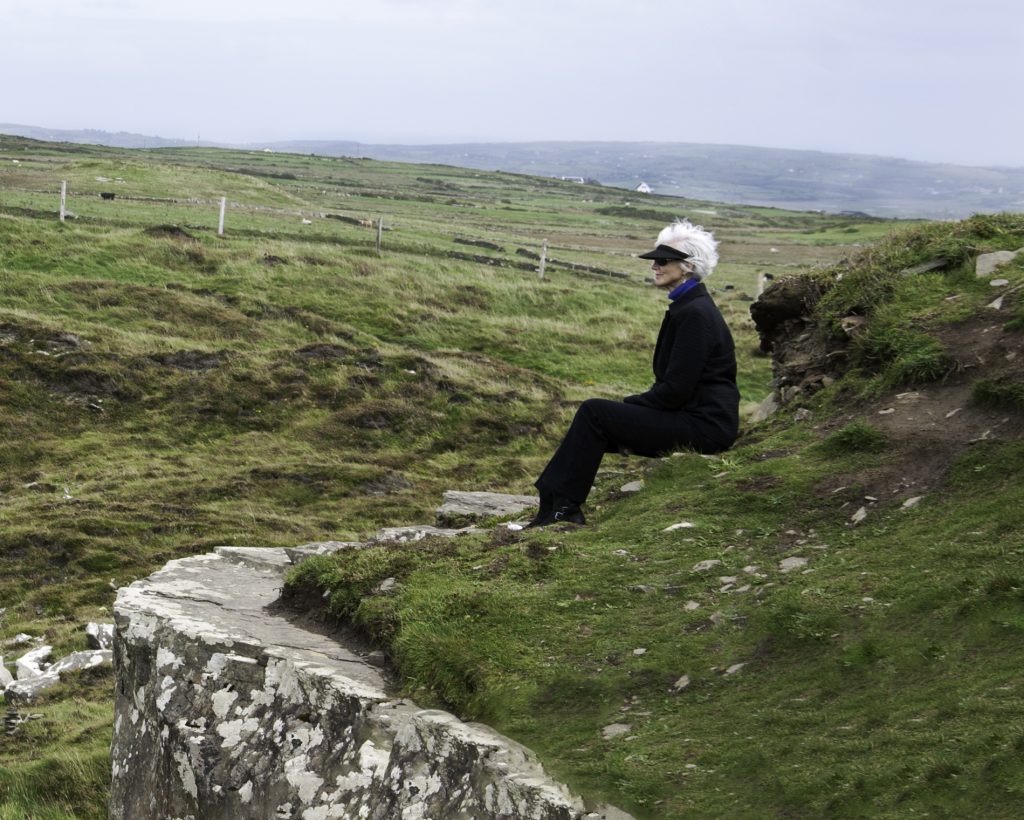 About the Author: Julie Terrill
Julie Terrill is a photographer and writer with a passion for travel. For ten years, she's told stories of empowerment through the lens of her camera in an array of unique landscapes, environments, and projects – from a shelter for children rescued from trafficking in Thailand to Faces of Courage, complimentary portrait sessions she offers to cancer patients in her community. She is a photographer and facilitator at Beautiful You and Soul Restoration retreats.
Connect with her at: JMTerrillImages.com